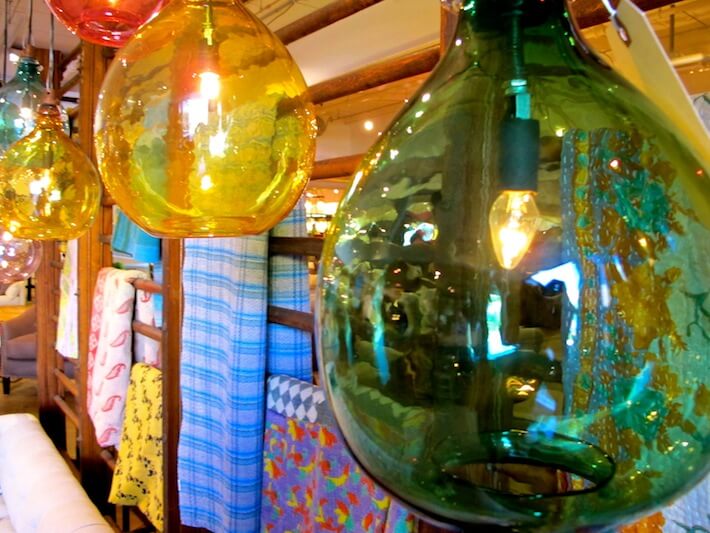 As a self-taught DIYer and home decorator, I sometimes find myself in the middle of a store silently refereeing between my creative instincts and my critical voice which, by the way, loves to muddle up my confidence on what "looks good".
On a recent lookie-loo outing at LA's H.D. Buttercup, I decided to stay clear of any soap boxing regarding my decor tastes and just go with what simply appealed to me. Since this was a recon mission, my debit card was safe from heating up, so I let my camera do all the shopping.
As I clicked off image after image, creating a sort of eclectic array of home accessories, I realized this might be a fun exercise for you all in your search for what appeals to you. The interior design world calls it sourcing, a fabulous, "non-impulsive" way to find the most fabulous stuff for your spaces before swiping a credit card or laying down cash.
Here are some of my favorite pieces, in no particular order, for no particular room, and not particularly together. With the soap box at the ready, let the clashing or agreeing opinions fly…should I buy or should I go?
Vase and decorative mirrors (above). The center mirror reminds me of the ocean and one of its sea shells…I love it.
Antique-style lighting. Too much? Not if this fancy gem lands inside a room with high or vaulted ceilings. I could also see this as a funky-cool welcome feature for a foyer or two-story entryway.
Old road signs. I think old signs are so cool and a fun play on words when placed in spaces that celebrate their utilitarian shapes and messages: game rooms, industrial-styled lofts, and garages. Stop it! Note: regarding the top sign…I don't even want to go there.
Paper mache animal heads. As many high-end designers remind us, every space should have a touch of whimsy…here ya go!
Retro string art. My Aunt Mim had this sort of gaudy 70s string art in her living room. I think this modern version is fab and a DIY project waiting to happen!
Vintage typewriter and cart. Funky and functional art (let alone in outrageously awesome orange)…need I say more?
Kid pedal scooter decor. This tempted me more than any other piece today…the patinated color makes this a show piece I would love to feature on, next to, or under a side board or even up on one of my chunky reclaimed wood shelves.
Vintage chaise lounge. Freud would love this tufted piece. Though, I'm not totally wild about the color, some bright and graphic throw pillows could transform its personality into more of an extrovert.
Asian-style outdoor umbrella. Personally, I'm not huge into Asian decor, but for some reason this particular piece works for me. Its festive detailing is just fun. How 'bout you?
Blown glass lighting and vintage fabrics. This kind of blown glass reminds me of the many tumbled pieces I find on the beach. I would love to add a bohemian touch to our indoor or outdoor space with one or maybe even three!
I next moved over to the vintage fabric reams and saw definite pillow cover potential…one of the easiest ways (besides paint) to add color and an eclectic vibe to your home.
All photography by Skaie Knox, HomeJelly