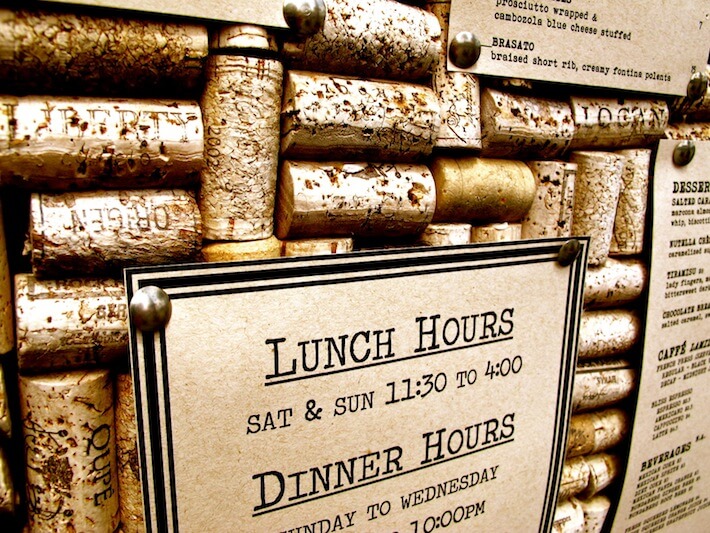 I'm so loving how the idea of repurposing, upcycling, reusing, etc. is becoming so mainstream and, in fact, quite chic these days. The trend is excitingly catching on, evidenced by this repurposed wine cork menu board that has been charged with enticing guests into its upscale, chef-driven Hermosa Beach eatery.
What caught my eye as I almost cycled past this DIY gem, was how simple it looked to make, yet the texture and functionality was elegant and even a touch posh. The perfect combination for a HomeJelly how-to!
Admittedly, I must have looked kinda quirky snapping off these pictures dressed in my exercise duds, but I did't care! It was worth the strange stares if it meant bringing inspiration to our HomeJellies. After all, taking a note from my favorite Friend, "Phoebe", they're just people whom I most likely won't ever see again! Cheers to that!
Supplies:
• 200-360 wine corks – (number will depend on the size of your board) Note: a great place to acquire wine corks is your neighborhood bar or restaurant
• picture frame – with cardboard or MDF backing
• Gorilla Glue Wood Glue
– important to use this type of glue for best results (hot glue doesn't even do the trick…it's the woody material of the cork that makes hot glue not a good "blind date")
Instructions:
Step #1: Attach backing to frame. Note: unless you do a herringbone pattern. If so, you'll need to trace the inside of the frame dimensions onto your backing, then cut the corks to fit within the line as you go. Here's a good tutorial on herringbone pattern-making.
2. Place corks in a pattern the way you'd like, across the top to make sure they fit properly into the frame. Pencil in your pattern onto the backing for a helpful way to keep your edges neat.
Note: you can arrange corks in many different patterns…here are a few ideas to inspire you:
Step #3: Use your Gorilla Glue to adhere your corks to your board. Allow to dry over night before use. Ta-da!
Besides a menu board, how else might you repurpose wine corks? Please share!
All photography (unless otherwise indicated) by Skaie Knox, HomeJelly
This post includes an affiliate link.