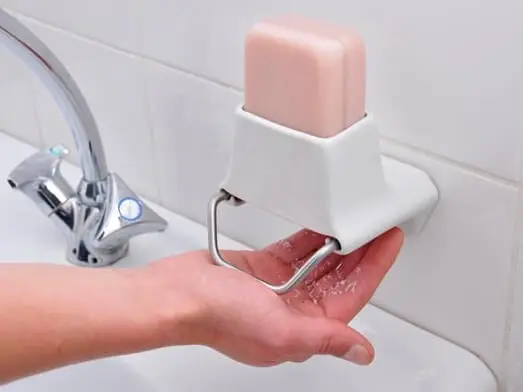 Once in a while, a gadget comes along that revolutionizes an entire way we think about something. Still, who knew you could revolutionize soap? Our "DIY Goods, Gadgets, and Gizmos" feature is a very cool retro-modern gadget called Soap Flakes, created by Swiss artist/designer/inventor Nathalie Stämpfli. For those of us who love the shape, smell, and many "flavorous" textures of bar soap, but dislike the messiness, slipperiness, and that leftover sliver we can't bring ourselves to throw out, Soap Flakes is a fun and fantastic way to have it all.
UPDATE: like so many inventions and products, these dispensers are no longer available.
Originally, these were available in two different models, one you can mount on a wall and the other, looking like a cross between a light bulb and a cheese grater, was perfect for placing in the shower or on a sink. Both dispensed light and aromatic flakes that easily dissolved with water and a little hand rub-a-dub-dubbing.
What I appreciated most about these little gizmos was how it took us back to simpler days, yet utilized a modern way of thinking. It was also environmentally considerate in that it reduced the demand for more plastic from liquid soaps, required less shipping space when transporting soap bars, and because of its concentrated form, we used less of the product itself and the resources to make it. To sum up, in the words of cheesy surfer's slang: Soap Flakes shreds!