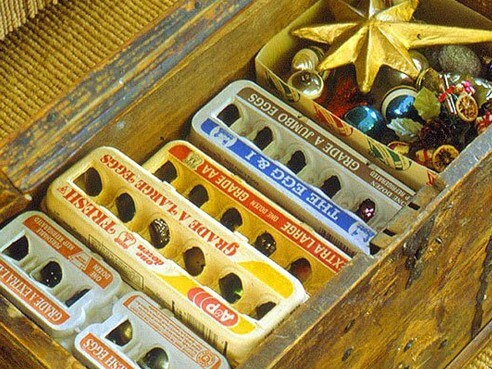 Decorations and gifts are great to hang and have strewn about to set the holiday mood! But, come January, most of us have the unhappy chore of finding space for all this festive goodness.
So before the last pine needles fall, and the eggnog runs dry, let's find inexpensive and "green" ways to store our holiday gear. Here are some inexpensive and eco-friendly ways to find creative storage solutions for your holiday goodies.
Re-Use Things Laying Around the House

Egg Cartons! They are naturally shock-absorbing and great for little ornaments. Nick-knacks are great "in season" but get a little ridiculous when it's nearing the time of year to put up red hearts and cupid decorations, right? Let's find winter adornments a home.
Wine Storage Boxes! Don't throw out those holiday party wine boxes! The little compartments are perfect for storing ornaments and garland. Take some junk mail to cushion each ornament or garland from the next and toss them into each of the little squares. Don't have any boxes hanging around? Ask for extras at your local IKEA, Trader Joe's, grocery store or liquor store.
Who Says Shoe Storage is Only for Shoes? This handy over-the-door shoe storage with tons of little compartments is a great way to use "dead" space behind our closet doors. Throw in your holiday candles, ornaments, and wrapping supplies here. Take it to the next level and throw some simple labels onto each compartment and you'll be ready to go for your next holiday decorating spree.
Look Up! for Space You Never Thought You Had
Use the Ceiling! This is a clever solution for using some closet ceiling space to store awkwardly long or large items like holiday wrapping paper. It's only four anchors and screws with some galvanized wire. Heck! Why not hang up that plastic Christmas tree while you're at it?
Use the Walls! Take old paint cans and put them to work! Secure them with screws or nails and use that wall space to hold smaller items. How about storing garland, ribbons or wrapping tape? Cluster a bunch of them on the wall of your closet or garage for accessible storage as modern wall art! Also use this idea with some crates or sturdy boxes to hold the kind of holiday supplies you may want to access year round, such us crafting, packing, shipping or wrapping supplies.
Break the Taboo! Regifting is Great!
Join the movement to make regifting cool and "green"! Rather than be a point of secrecy, perhaps we can make the idea of "re-gifting" super cool! Take a cue from the popular newsletter, Brain Pickings and proudly proclaim the home organizing and environmentally-friendly benefits of "regifting."
Just because Grandma's ugly sweater gift doesn't fit, doesn't mean you have to feel guilty for regifting it. Your hipster niece would happily wear it ironically to be on the cutting edge of fashion!
Jenny Yang is a writer, comedian and the principal organizer behind ORGANIZED. By Jenny [http://www.organizedbyjenny.com]. Founded in 2008, ORGANIZED. By Jenny is a professional home and office organizing service specializing in coaching creatives, businesses and busy families for healthy, productive and inspired living.