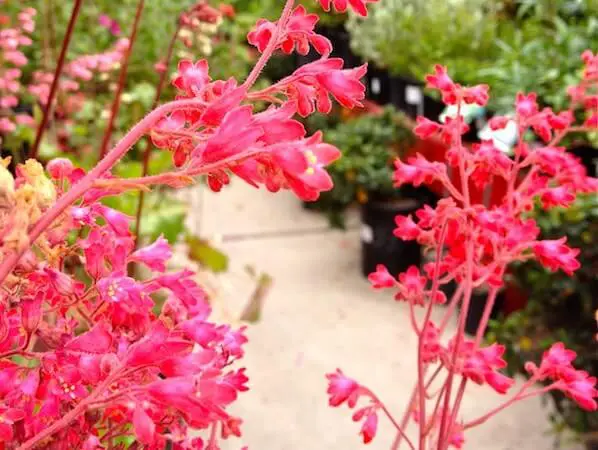 Being the daughter of a Minnesota farm girl has its perks. Ever since I was able to hold a trowel, and with mom as my guide, I've been knees to the dirt, planting anything that'll grow. I just love how flowers and flora instantly makeover an outdoor (or indoor) space, delighting us with real-time sprouting, blooming, and flourishing throughout the season. I recently splurged on a carload of greenery and completed several projects including my "Home Sweet Home" stacked planters, our curb appeal makeover, and the most recent, our back-of-the-house paint-pampering (which included installing a roof to root twine trellis for a traveling vine, re-seeding a bare patch of lawn, and filling a decorative vintage bucket with a colorful assortment of blooms). Fewww!
I've also been longing to stretch my "green thumb" a bit and experiment with flowers and plants I've never used before. So, the other day I ventured off to a "mom and pop" garden center called Deep Roots (love their name!). Not only was I blown away by the beautiful array of unique blossoms I've never seen before, foliage, grasses and even trees, I was also incredibly impressed by the vast amount of knowledge and time the garden experts spent educating me and answering all my inquisitive questions. Here now are some of my favorites that will definitely wow-up any outdoor space.
Succulent succulents!: in vogue and in large varieties, these leave-alone plants are perfect living sculptures, requiring very little care. Plop them in a beautiful vessel like the one above, and you're sure to impress.
Trailing Fuchsia "Miss California"-this cascading pink beauty is a bit of a diva and requires both a hanging home and a relatively cool location. Still, she certainly is a show-stopper and elegantly blooms from spring to the end of summer.
Stained glass outdoor decor: part of the charm of Deep Roots is the smartly designed spaces they create with decor items like this salvaged stain glass doorway. It is quite impressive as it stands about 12 feet tall and inspires visitors to think of interesting options for outdoor design ideas.
Water-wise plants: these gorgeous "greens and reds" do double-duty. They are both distinctive in color and design as well as being drought resistant. If you live in the western part of the country, you know how the sun can zap plants quickly. These will not only keep your water bills down, they'll definitely have neighbors saying, "Ooooh!"
Potted Plants: container planting is another fabulous way to display wondrous foliage like these above and can be perfect for balconies and small outdoor spaces. Look for interesting pots in all kinds of sizes and don't forget the pebbles and stones that can be just as colorful and interesting as the plants they decoratively cover.
Fun containers and trellises: there is so much you can do to bring whimsy and wow to your yard and garden. Take this wooden wagon…it was born to hold greens and shrubs. Trellises use an architectural approach to setting the stage (and entrance) for your beautiful outdoor space. The list of possibilities is endless…go nuts and be creative!
Special thanks to all the knowledgeable and helpful garden experts at the Deep Roots Garden Center!
Tip: be sure to ask your local garden expert for tips and ideas specific to your area's climate and soil quality.
Q. What is your favorite plant or outdoor decor item?
Photographed by Skaie Knox, HomeJelly