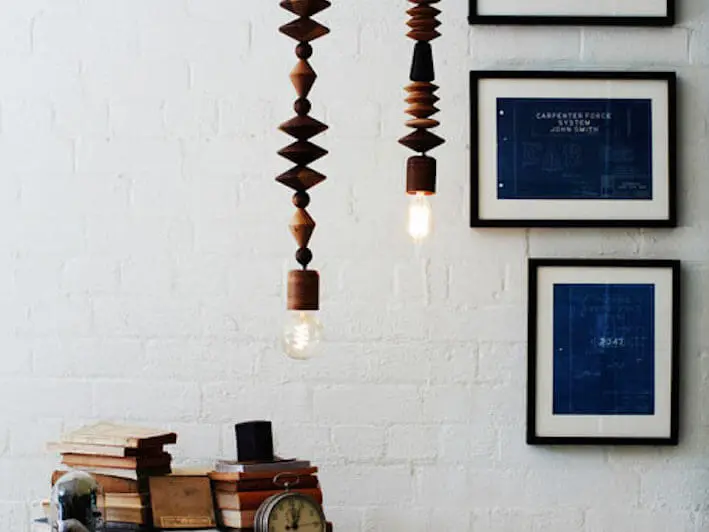 Now we're talking, retail shops! Yes, I'm talk'n to you! Y'all should take a page from ParrotUncle, an online light fixture shop that allows shoppers to custom design their very own lighting! How fantastic!
The steps are super easy:
1. Go to ParrotUncle's DIY page, then click on the "Design It Now" button.
2. You'll be prompted to upload a photo or drawing of the type of lighting you want – and you can be as specific as you want!
3. Fill out the rest of the form including shade material, color, size and shape; fixture details; canopy; and finally, you can even specify the type of lamp socket, voltage, number of lights, switch type and rod/cord length! Now that's custom!
See how Wilson Berman turned his love of Rubik's Cube into his very own table lamp!
We're thrilled that ParrotUncle is a sponsor of HomeJelly and we encourage our HomeJellies to check out their site. We love to shop, so…here are a few of our favorites:
Modern Style Vortex Shape Wooden Pendant Light
Why we love this?
It's modern, graphic and looks great on or off. This pendant light is made of hand-crafted wood veneer and casts a beautiful sunburst pattern. Size: diameter 21.65″ x height 10.63″ On sale: $235.75
By the way…it was difficult to choose just one favorite from this collection. There are just so many wonderful wooden lamps to choose from! Click in to view more of these fabulous fixtures!
Handmade Balance Scale Pipe Table Lamp
Why we love this?
Cuz it looks like something we'd make! Industrial modern design is epitomized in this desk lamp great for any office, man or mom cave. Price: $203.95
Handcrafted Liquor Glass Bottle Hanging Lamp
Why we love this?
Well, beside the fact that we love a good vodka martini, we've always wanted to DIY one of these bad boys. If you're like us and haven't gotten around to making one yet, ParrotUncle can hook you up! Price: $55.95
Why we love this?
This wall sconce is whimsical and edgy…just like HomeJelly! It's also a great piece to inspire flea market pickers and DIYers alike! Price: $179.95
Four Lights Modern Style Primitive Flavor Wooden Pendant Light
Why we love this?
What's not to love?!? This very unique, boho meets Scandinavian style wooden pendant light would be a delightful addition to any high ceiling staircase, entryway or featured anywhere needing a little texture and light in your home. On Sale: $222.36
Industrial Edison Bulbs and Accessories
Why we love this?
For just a buck 99, you can purchase a beautiful Edison-style light bulb or accessory item to add another decorative element to your light fixture or create your own! If you find what you want, though, you'll need to act fast, as they only have 10 per item! Click in to check 'em out! Price: $1.99 p/item.
All photography by ParrotUncle
ParrotUncle is a sponsor of HomeJelly. All opinions are my own.