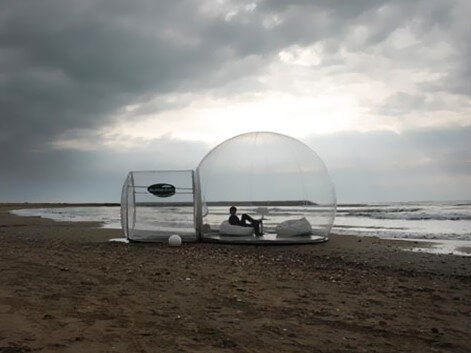 For many kids, hamsters were the next best thing to owning a dog, cat, or rabbit. The fun of having one of these petite pets was watching them roll around in that plastic ball or scurry through the space-age labyrinth of tubes; it was endless entertainment.
Now, there's an opportunity for us to "walk in our hamster's shoes", or rather inside their homes, thanks to designer Pierre Stephane Dumas and the French company called, Bubble Tree. This UV-reflective, made-from-recycled-materials sphere comes in different options for camping under the stars, on the beach, in a forest, and even in the trees.
Transparent or opaque, these Bazooka-bubble bungalows can house up to a king-sized bed, chairs, TV, a kitchen, and even has additional attachable rooms and bathroom. Not quite your "hammy's" digs, but who wants to sleep in wood shavings anyhow?
All photography by bubbletree.fr