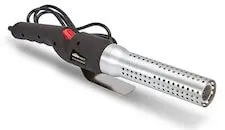 This post contains affiliate links.
When it comes to remodeling these days, it only makes sense to want the very best materials money can buy. But due to typically restrictive budgets, we also want a good deal, too. Well, what if I told you there's a super simple way to have both AND support local artisans and businesses in the process.
Too good to be true?
Nah. It's easy!
When it comes to the following fantastic building and design items, it's so much savvier to buy locally. Three main benefits are:
1. Access: to experts and seeing/touching building and/or design materials.
2. Saving on shipping: this can seriously cut down on cost AND time.
3. Local love: supporting, enjoying and displaying the works of local artists, artisans and businesses.
1. Tile & Stone
What's so savvy? You'd be surprised by what you can find in most large (and some artfully-minded smaller) cities when it comes to tile and stone. There are amazing local artisan shops you can visit where you can discover designs and options you've never thought of before. Additionally, when you approach owners with your budget, they can help you create a punch list that'll be gentle on the wallet, yet brawny on style.
We adore Arto Tile – they're a family-owned business with a serious passion for what they do. You can just feeeeel the love in each tile!
2. Outdoor Landscaping Materials
What's so savvy? On a recent trip to our local landscaping shop, Sepulveda Building Materials, I discovered all kinds of options we could choose from to make our newly updated backyard sing…like the blue birds in our trees! We also had awesome access to experts who knew the best materials for the job and even what types of greenery we should plant that would best suit our climate and soil type.
And, because these folks are about 15 minutes from home, we can easily haul the stuff to our house. For larger supplies, we can rent a "load and go" truck for 75 minutes from Home Depot for only $19! Boom!
3. Fabrics and Textiles
What's so savvy? Though there are umpteen websites to source and buy fabrics from today, there's nothing like hopping into the car to zoom off to your local fabric store. The ability to touch and see the texture and true color of the material, let alone bring other swatches from home to coordinate with, is incredibly time-saving and helpful.
Yep. "Old school" shopping still has its advantages.
Many of the store representatives can also suggest textiles and fabrics you can use, as well as techniques to help you complete your projects. Save money with local coupons and keep your ear to the tracks when they have storewide specials.
I've been a SoCal/LA girl all my life and a long-time Joann customer. But when it comes to volume of selection, I have to say, "Thank you, Mood!" Search your local fabric stores and give them some local love.
4. Reclaimed Wood/Architectural Salvage
What's so savvy? One word: history. Every city in America has a story, so why not celebrate it by supporting and buying from local lumber yards and salvage shops? There's gold in them thar places! Depending on the item and location, you may or may not save on the budget, but, boy, will you have something more valuable…character!
Still, you can chance upon good deals. Often times, one of our favorite LA salvage shops, Silverado Salvage and Design, has weekend blowouts. You can also visit and input your zip code on DiggersList, a nation-wide, online portal to local shops, individuals and Habitat for Humanity ReStores that can save you loads on materials, design items, furniture and so much more.
We found 600 bricks for about .20 cents each and created a beautiful (and useful) brick pathway and patio in our unusually sizable Manhattan Beach backyard. They were original LABCO bricks (LA Brick Company) used to create a patio in a 1920s era home here in Los Angeles – a story we've told over and over again to houseguests.
The new owner decided to dig up and remove these bricks of gold and sell them on DiggersList. Her "trash" became our treasure and now we get to enjoy our outdoor space and throw awesome BBQs using our handy HomeRight ElectroLight Fire Starter – which, by the way is such an easy way to get our charcoals started, saving about 20 minutes of wait time!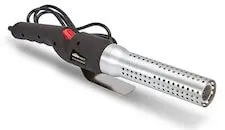 ElectroLight Fire Starter – $41.48
5. Art
What's so savvy? A most wonderful gift you can give your home decor is one of art, and local artists can capture your city and/or natural surroundings like no other. This is a great way to bring richness to your home while supporting your neighbors, who might just offer you a "local's only" discount.
Additionally, you can explore local antique swap meets for super deals that are often filled with hidden local treasures like this one (found at the Long Beach Antique Market) :
As the adage goes, think global, act, or in this case, buy local!
All photography by Skaie Knox/HomeJelly
This post was sponsored by
I've teamed up with HomeRight and am proud to be one of their paid brand ambassadors. I also received a HomeRight product sample to use in this post and have included affiliate links to the tools and supplies I used in this project. My personal opinions are completely my own based on my experience. I wouldn't have it any other way!