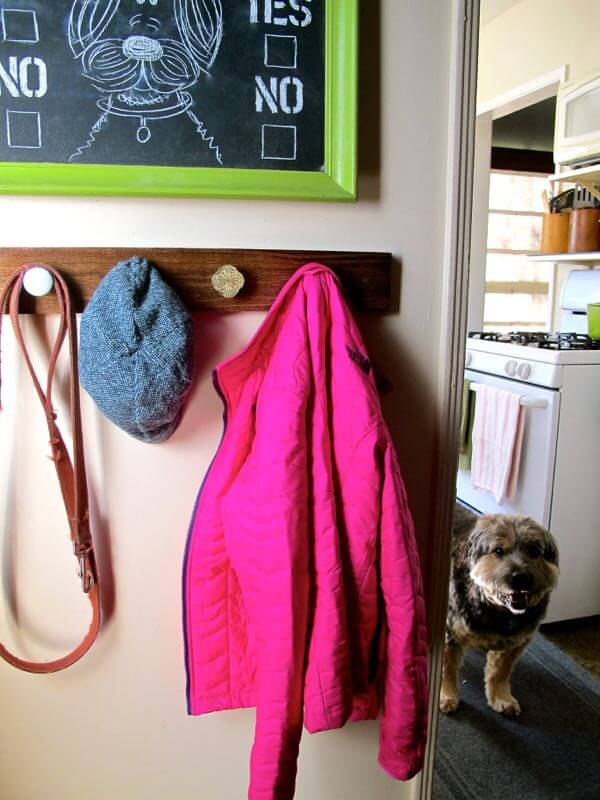 I've always been blessed with having a big family. Not only are they amazing cooks, bakers and board-gamers (yes, we're lo-fi gaming nerds), they're also incredibly handy. For my birthday this year, I received this wonderfully hand-made coat rack from my cousin, Heide, fashioned with an assortment of vintage drawer pulls (just my style) and finished off with a warm wood stain on the base. I instantly decided where I would install it.
With a home of just 900 square feet, we've prudently utilized every square inch, except for one: a 37 1/2″-wide wall heading out to our back yard. Yep, I said 37 1/2 inches! You might be thinking…37 1/2 inches? What could you possibly do with that much space?!? The answer: create an instant dog walking station! And, that, my friends, is exactly what I did!
To create an instant dog walking station, all you need is:
• hooks for leashes, hats, jacket, etc.
• chalk or bulletin board for notes (my hubby and I sometimes leave early before the other, so this is helpful to know if Klunkers has been fed or walked yet!)
• cabinet or drawers for food, doggie toys, grooming supplies, waste baggies, etc. (ours is on the opposite wall of this small, yet efficient area)
Soooo…whaddaya you think?
Now It's Your Turn!
Do you have a dog walking station in your home? Tell us about it or send a photo to [email protected].
All photography by Skaie Knox, HomeJelly