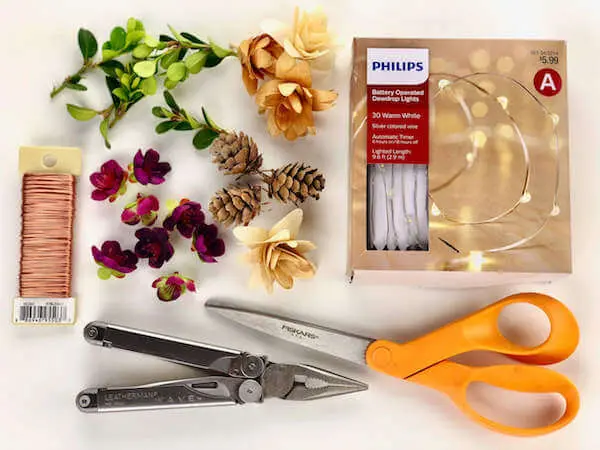 HOW-TO VIDEO BELOW!
Ah, spring. Just thinking about all her brilliantly blooming colors and aromatic scents makes a girl giddy with delight.
What's also wonderful, is that you can bring a little of Mother Nature's magic and springtime sparkle indoors with today's craft, "Twinkle-Lighted Flower Garland". Not only does it pay homage to the season, it's romantic as hell!
Supplies:
• Twinkle lights
• needle nose pliers
• faux flowers (in any color you wish)
• wood and/or dried flowers
• boxwood or faux greenery
• mini pinecones
Instructions:
1. Test your lights to make sure they are in working order.
2. Unravel your twinkle lights, then, count the number of spaces between lights. This is how many pieces of flower, greenery and pinecones you'll need.
3. Place the stem or wire of a faux flower, greenery or pinecone in between the two wires (in the space between the lights) and twist the wire with a needle nose pliers until decorative item is secure. Wrap wire around once or twice to really make sure it's in place.
4. Continue to do this until you've filled all the spaces.
5. Hang and be deLIGHTED! Design Tip! This fun garland can be placed anywhere since it runs on batteries! Bedrooms, dorm rooms, outdoor spaces…anywhere you want to add sparkle!
WARNING: do not leave lighted garland on unattended.
Now Watch the Video Tutorial!
[mv_video key="jp87em0cgfdon40wy9ic" sticky volume="70″ aspectRatio title="Craft a Twinkle-Lighted Flower Garland" thumbnail="https://mediavine-res.cloudinary.com/video/upload/jp87em0cgfdon40wy9ic.jpg"]
All photography and video by Skaie Knox, HomeJelly