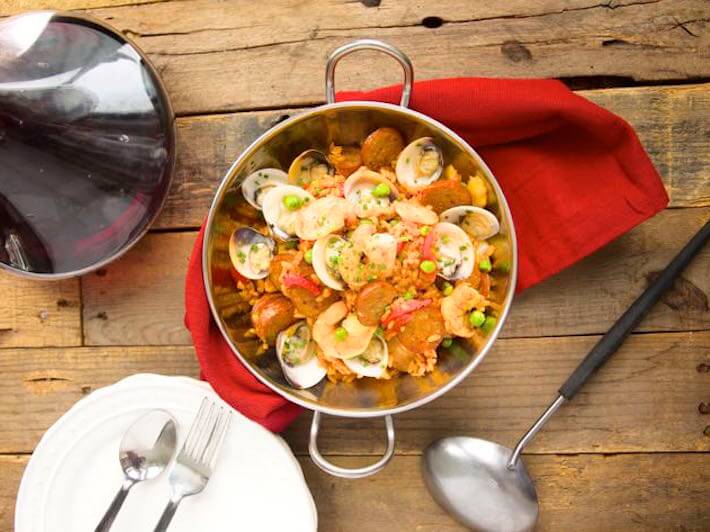 When we imagine our dream home, often times we think of its impressive architecture, beautiful decor and idealistic location. As this may be true, I'd like to go one step further and add, that what we experience inside our dwellings is truly what makes it home. One such activity is cooking. After all, everyone knows the heart of the home is the kitchen, where memories are made and recreated…often through the love of food.
So, in light of this, I thought I'd pass along to y'all a new website-to-kitchen marketplace that empowers the home cook to prepare dinners just like their favorite chefs, restaurants and cookbook authors. Drumroll please!…Chef'd! Through Chef'd, you can order meal kits filled with pre-portioned, fresh ingredients delivered right to your door. Every meal has been created by celebrity chefs, magazines, and cooking shows, with easy-to-follow recipe cards (as well as a link to a helpful online video).
I was thrilled to be invited, a while back, to test some of Chef'd's recipes. I prepared the Maple Glazed Salmon, 40 Cloves Garlic Chicken, and the Chicken Breast with Herbed Goat Cheese. I can sum up the flavors, experience and freshness in two words: Um…Yu-um! What's more, the recipe cards also instruct you on how to plate each meal, so, not only does your dinner taste restaurant-good, it looks the part, too!
Now, to keep it totally real, these aforementioned meals were not one-pot dinners. They definitely had some prep time and a modicum of cooking skills, though mostly basic, required to complete each dish successfully. But, boy! The results were well worth the effort! I can still taste the creaminess of the goat cheese that was melted underneath the crispy skin of the moist and flavorful chicken breast. The accompanying meaty, wild mushrooms added just the right amount of robust earthiness. Oh, and with each recipe, I was encouraged to be daring and up my culinary swagger with fresh herbs and spices, as well as ingredients like fennel bulb, hoisin sauce and red quinoa.
Some really cool things about Chef'd is the variety of available dishes. Currently, there are about 70+ recipes that appeal to families, gourmet aficionados, vegetarians and individuals with dietary restrictions. More meals are being added every month and will soon have hundreds to choose from, 24/7. If I could offer one suggestion to Chef'd, it would be to add some one-pot meals for super fast and easy preparation.
One of my favorite chefs from Top Chef, Season 5, is Fabio Viviani. His, along with other renown chefs' recipes (Louis Maldonado, Gaby Dalkin, Kristina Kuzmic, to name a few) can all be delivered and prepared right in your home (by you, of course, not the celeb chefs!).
In addition to the yumminess of each dish, what I like and appreciate is the ability to choose which meals I want (like that awesome goat cheese chicken breast), as many times as I want (no predetermined rotation of meals), whenever I want (there are no subscriptions).
I thought I'd close with a few questions:
HJ: To be more specific, what type of recipes will Chef'd offer?
Chef'd: Our goal is to offer a wide variety of recipes: family-friendly, 30-minute meals, gourmet, gluten-free, paleo, vegetarian, etc.
HJ: How much does Chef'd cost?
Chef'd: The price range for consumers will be between $18- $39 for dinner for two- pricing is solely based on the amount and type of ingredients each recipe calls for.
HJ: How does Chef'd source their ingredients?
Chef'd: We offer responsibly sourced ingredients that are measured, weighed and planned for a meal ready to cook. Our experienced supply chain team will be sourcing ingredients locally and nationally, with quality being our highest priority.
One last note: one of the best ways to warm a home is through good cooking. The aromas, the sounds of bustling in the kitchen, and the coming together to feast on a well-prepared, heart-felt meal is like layering a room with different textiles, textures and colors – it's always a good "design" choice.
Visit Chef'd and tell them Skaie sent ya!
This is not a sponsored post. All opinions are completely my own based on my experience.