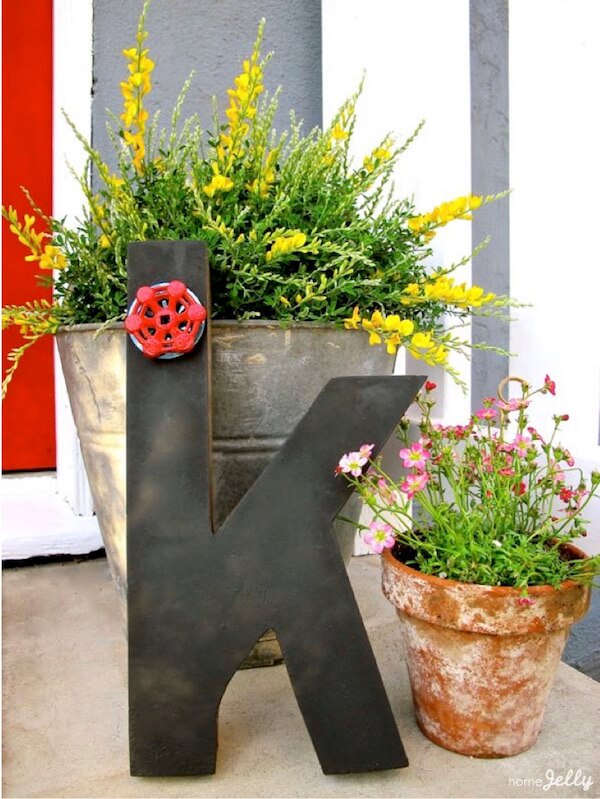 Thumbing through my list of projects for my "Spruce Up Your Steps for Spring" post, I knew I wanted to make over our much weathered (and not so much in a good way) 3D letter "K". It might seem like a little thing, but, as the design adage goes…it's all in the details!
After much thought, I came up with something that would seem both feminine and masculine and in-line with our inside decor. Additionally, it would pull in the colors of our exterior. I used this photo as inspiration:
Since this metal letter had industrial written all over it (so to speak), I thought I'd create a "flower" out of a round spigot handle, as well as a tub strainer for added dimension. Fun! Have a look see, and tell me what you think about my 3D letter made over with plumbing panache…n'kay?
Supplies:
• 3D letter (yes, you can do this on a new one, too!)
• painters tape
• spray paint (you can use any color – I used a matte black for that industrial look-ooh!)
• E6000 adhesive
• industrial adornments (I used a red spigot handle and tub strainer…you can use anything you wish!)
Optional: ribbon, rope, twine, etc. to hang.
Instructions:
1. Clean and dust off cob webs and stuff from your letter.
2. Tape off the edges.
3. Spray color of choice onto the front of your letter. Allow to dry
4. Apply glue to your adornment pieces AND your 3D letter. Before placing your "flower" onto the letter, wait approximately 2 minutes for the adhesive to slightly set up – this will make your spigot and strainer adhere better. Allow to dry up to 24 hours.
That's it! You're done!
All photography by Skaie Knox, HomeJelly