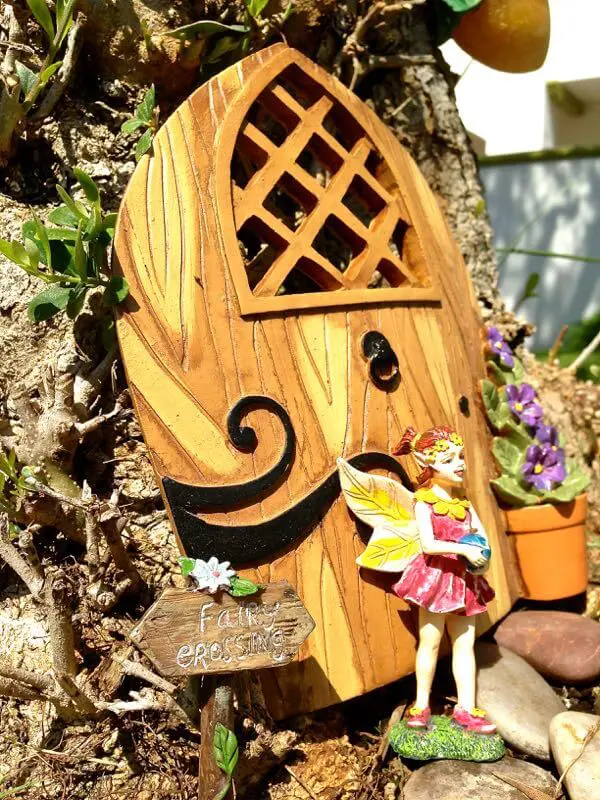 My Aunt Mim would have loved to have seen this – an itsy-bitsy fairy village nestled against the base of a laurel tree in Manhattan Beach's "Tree Section", that would charm the socks off of anyone. And, I just about missed the chance to be bare-footed myself, had it not been for these lawn monsters carrying away the neighborhood gnome!
Of course, it didn't surprise me that my quirky cousin, Jane would display such a humorous take on the iconic garden elfin effigy, so I looked for some more outdoor decor morsels, then stumbled, and almost tripped over, her next door neighbor's delicate and delightful tree fairy village!
What's so inspiring about this display is both its attention to detail and use of natural environment. There are lots of types of garden fairy kits and one-of-a-kind pieces you can find online – it's the application and perfect tree that's the challenge of finding and styling. Interestingly enough, Manhattan Beach has lots of foresty-type trees. No worries if don't! A little garden or potted plant will do. In fact, you can put a fairy door and all the accoutrements in all kinds of places! Then, who knows…some may just appear…just like an angel in the sky.
This post is dedicated to my wonderful Auntie Mimmie-Mouse.
All photography by Skaie Knox, HomeJelly