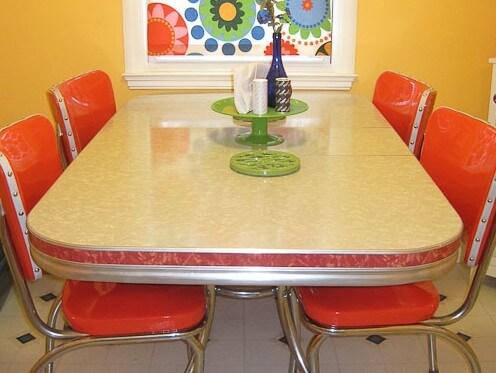 My cousin Jane loooves 50s vintage. On an antiquing trip in Minnesota several years back, we were neck-deep in all kinds of stuff. With the skill of a lioness, Jane's attention went right into stalking mode, an earned and practiced skill, which ultimately paid off. Amongst the bric-a-brac, she found a diamond in the rough: one of those fabulous multipurpose kitchen stool/ladder/chair contraptions. At first glance, I thought it was junk, with rust cancer making its way all over this poor thing. Still, Jane had a vision, and with a little DIY elbow grease, it turned out beautifully.
With this in mind, I thought you might enjoy this 50s era dining set I dug up on DiggersList (for a mere $87.50 I might add!), along with a few styling examples. The thing I learned most from my Midwest treasure hunt is to look for pieces with good bones. Refurbishing is more often than not totally doable, and you might not again come across something as special. At least, that's what Jane says.
#1. Retro-Redo: Even if you find a set that's a bit rough around the edges, try refinishing and/or reupholstering yours like the one above. Updated and bright, this retro-redo is simply delightful.
#2. Simplified: the clean lines of mid-century furniture fit well in today's simplified modern kitchen. With its pop of color, it makes for a fantastic focal point. Add a stay-out-of-the-way glass light fixture, some simple accessories, and you're good to go.
#3. Vintage Modern: with updated but retro-esque lighting, cool paint colored walls, and a contemporary art motif, this vintage mod space is tranquil and quietly chic.
Q. Are you into vintage? What's your favorite piece in your home?