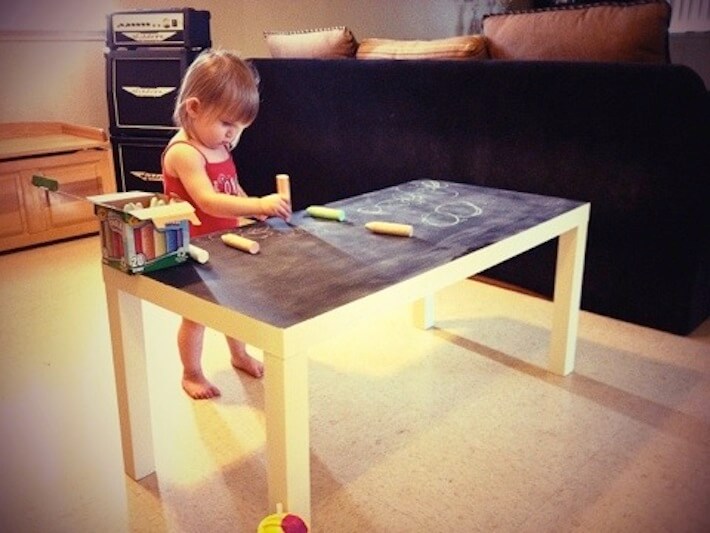 With the winter months just at our doorsteps, outdoor play may be out of the question for a while, creating the challenge of exerting "cabin fever" kid energy many of you parents experience this time of year. Luckily, I stumbled across this darling and easy-to-make chalkboard coffee table how-to, thanks to blogger, Jill of Spunky Punky. The wonderful thing about this project is that your kids can enjoy this table far into spring, summer and fall, making this a multi-seasonal and interactive piece of furniture. Hurray! Mr. Winter…bring it on!
Chalkboard coffee table – Here's what you'll need:
• coffee table (flat topped tables are best for this project)
• Paint remover (use if your coffee table has a painted top – you don't want to prime and paint over preexisting paint…smoothness is the goal to easy chalkboard writing for your little one(s))
• hand sander
(you can also just use sandpaper or a sanding block)
primer
• chalkboard paint
(in any color you want) – Note: the link is for Folk Art Chalkboard Paint which has received the highest ratings (4 1/2 to 5 stars) from buyers.
• painters tape (you will want to keep the chalkboard paint where it belongs so it doesn't run or drip anywhere).
Visit Spunky Punky for full how-to.
This blog contains affiliate links.