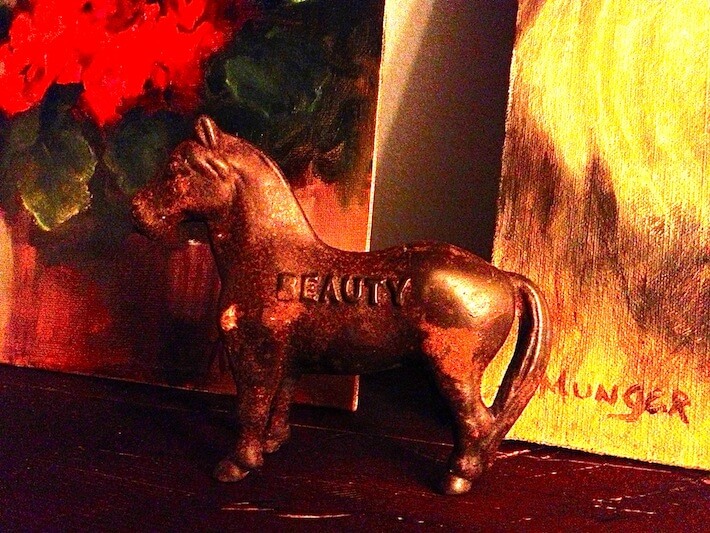 Amongst all the holiday craziness, I was able to break away and sneak over to the Long Beach Antique Market, open only on the third Sunday of each month. The weather was perfect…well, for me at least. The vendors weren't looking so happy all cold and battling the drizzling rain. For me, I love donning my knitted cap and scarf and bundling up in several layers to keep warm – I could have easily been readying myself for a dog sled ride across the Alaskan tundra!
Alas, I could have used a Husky or two, as my mission this day was quite specific and time-limited. I was on the hunt for some unique and final pieces for our dining room remake-over, and aaaaaaalmost found what I was looking for. Admittedly, I'm a bit of a newbie when it comes to actually laying down cash for stuff that jumps out at me, (as opposed to "window" shopping), so I missed out on a few things for lack of realizing the "bird-in-hand" theory also applies to flea market shopping. Oh, well…I figured if I REALLY wanted that swag light, I would have snatched it up right then and there. Nope. It was cool, but too new-looking. I'd rather lose out, then buy something I'm vanilla on.
Here are some of the finds I passed on. Did I do the right thing? Or should I have coughed up some dough? Leave your thoughts below. I could use a second opinion or two as I'm getting down to the nitty-gritty on my "items to buy" list.
I was soooo close to buying these. Luckily, Antiques Roadshow has taught me over the years to always check UNDER the piece you're thinking of buying. Yup. Even though the seller claimed these were original mid-century modern dining chairs from the 60's (cough! cough!), the label underneath was brand new, bright red. Note: I've been searching my notes for the name of the type of manufacturer, but couldn't find it. Nonetheless…the stickiness of the label was still drying so it didn't really matter. Bah.
I saw this very interesting lobster basket and immediately pictured it above the large space over our TV. Freeing it from the bonds of its formerly enclosed entertainment cabinet (thanks IKEA, but our flat screen no longer needs a huge box!), I've been missing something interesting that might also take the focus away from our 36″ television when it's not in use. This was a bit of a head-scratcher. I wasn't sure its thickness would actually be a distraction rather than a cool wall art feature. So…not being totally sure, and this costing a hefty $150, I kept walking. Any thoughts?
Salvaged from an old New Jersey neighborhood restaurant, some very beautifully patinated ceiling tiles were wrapped around the frame of this mirror. It would have looked perrrrfect in our new space, but…$150 perfect was just not perfect enough. Gotta stay on budget!
I just loved these wide and groovy Mies van der Rohe style chairs. Not something I'd place in our home, but great for the office. Note: I didn't spend much time checking this one out for authentication, so I don't know if I passed up a good thing or not. Hmm.
I was drawn to this unusual industrial light. Its character was intriguing and I was further shocked that, after texting a photo of this to my husband, he liked it as well! Uh-oh, I had the green light? Now I actually had to call upon the "design force" within me and make a decision. I picked it up to really get a good look at it and almost had a hernia. It must have weighed at least 35+ pounds (okay, not quite a hernia, but I was surprised of its heaviness nonetheless!).
Anyhow, with 1932 plaster walls and ceilings, I was a bit hesitant to hang this over my newly gifted mid-century mod teak wood dining table. It's California after all! Pass. Note: After having second thoughts about this light about an hour later, I ran back to buy it, but, darn! They had already packed up and left. "Bird in hand" lesson learned!
Not having much luck in the larger furnishings department, I started looking into accessories like vintage wooden spindles, tin boxes, and interesting trinkets to ornament my newly repurposed/reclaimed wood shelves. I stopped by Tony's FoundInAttic booth and immediately spotted a very sweet patinated cast iron horse bank. I picked it up and turned it over, and noticed its back leg was missing from the knee.
"Aww, darn." I just couldn't catch a break. "Everyone has really loved that horse today. There's been a bunch of people who've picked it up," said Tony. "I could imagine. It's so sweet. It's a bummer the leg is broken off, cuz it kind of wobbles," I replied. "You can have it," exclaimed Tony. "What? Really? Are you serious? That's so nice! Did you know it's my birthday on Christmas, and this is my first present? Thank you so much!" I finally found my unique find.
As I walked away, I looked at this three-legged horse (which I will cherish even more now) and turned it back over. On the side of its body read, "Beauty". Ah…Kismet. Yet, another reason I love what I do. Please check out Tony's website, FoundInAttic.com. It's very cool and he sells amazing finds! Thanks again, Tony!
Got any thoughts on these finds? Share in the comments below, please!
All photography by Skaie Knox, HomeJelly