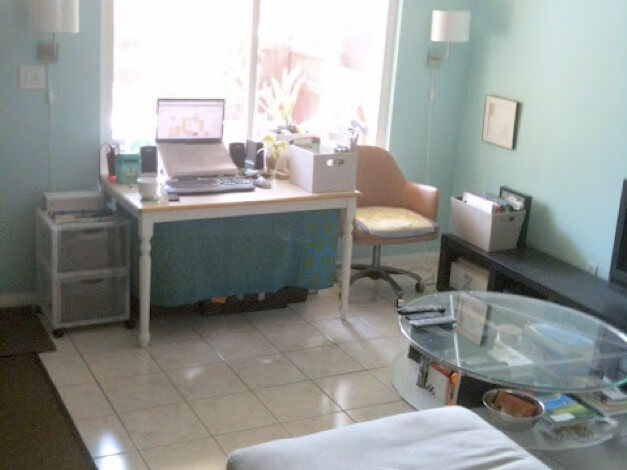 A lot of people don't like to "take their work home" with them, but as a Professional home and office organizer, I really love it! Why not use the same techniques of creating more efficient and useful spaces for my clients on my own small-spaced condo? With a goal of little to no budget, I organized and redesigned my home office to get ready for spring.
As a work-from-home writer and organizing professional, I really needed a home office that made me excited to hop on to my computer every morning and get productive. My home office took up a small efficient corner of my dining room, but I was just not using it. I found myself plopped onto my couch and straining my back. Then, I eventually crept over to the dining table, finding my self even farther away from my files and office supplies. Like many of my organizing clients would tell you, things can "look" organized, but if you're not using them, then be honest with yourself and admit: "It's just not working."
How did I organize and redesign my way to a new space?
1. Organize and Downsize to Get Started
I had recently relocated most of my childhood storage items from my parents' home into my new condo. Boy. Did I have a lot of work to do.
Did I really need the 18" x 24" "Garfield luxuriating in a fruit bowl" drawing I had featured in the sixth grade art fair? Probably not. So I took a picture for the memory bank.
I ditched the old stuff that I didn't need anymore and boiled down my new home office supplies to the essentials. Now we know what we are working with.

2. Repurpose the Furniture You Have.
I cut down the legs of my dining table/desk conversion so it could truly be ergonomic. My old dining table had a big surface area. Then with a hacksaw to the legs, and some contact paper on top, it was ready to rock as an office desk. I had picked up a few rolls of cheap contact paper with a design similar to this beige grasscloth below from one of my favorite frugal haunts, Big Lots. It worked like a charm to quickly revive the tabletop finish of my new desk.
To hide the printer and office supplies I tucked them underneath the table, then taped up turquoise fabric runners I purchased from a closeout sale to create a little "privacy" skirt to cover the clutter.
3. Think Outside the Floor Plan
Just because it's "supposed" to be a dining room, doesn't mean it can't be a comfy reading lounge. Now, is it a rule that you have to put your sofa by the large living room window? I said, "Why not put my home office by the large living room window?"
A simple redesign of your space means you use what furniture you have but think more creatively about using it to fit your needs. What did this mean for me? I wanted to type on my computer and look out into the beautiful green courtyard of my condo and up into the sunny Los Angeles sky. This meant I had to reorient where I put my furniture.
The new home for my home office. Great natural light makes me excited to get to work! The white sofa, seen on the bottom right corner, got flipped to the other side.
The white sofa's new home now faces the large living room window. I still have room to enjoy some television, or take a break from the computer.
My "dining room" space, and the previous location of the home office, is now home to the other living room sofa. This has become a reading nook and group work lounge. The bulletin boards remained where they were, and continue to serve as a great brainstorming and collaborative work space.
What's the verdict on my new space so far? I love it! Getting that natural light for my work day is worth the creative use of my floor plan. As unconventional as it may seem, organizing then redesigning what you already have can do wonders for your space. It cost me little to no money and just a little elbow grease.
How about you? What are some unexpected ways for you to reuse what you have to better serve your life? What successes or failures have you experienced in repurposing your furniture or redesigning your space?
ORGANIZED. BY JENNY is a Los Angeles-area professional home and office organizing service specializing in coaching creatives, businesses and busy families for simple, productive and inspired living.