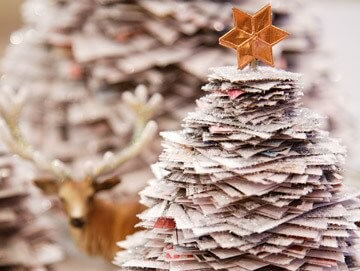 Who doesn't love the smell of evergreen in their living room during this festive time of year? I know I do! There's just something so "Christmassy" about a real tree that sheds pine needles and smells like a forest, but if the pine needles and mess from a real Christmas tree aren't for you, here are some alternative Christmas tree ideas using recycled stuff.
Christmas Tree Made from Recycled CDs
Plywood Tree
Pre-fab Cardboard Christmas Trees
Recycled Newspaper Christmas Trees
Scrap Metal Made Festive
Recycled Bicycle Parts Turned Jolly
Beer Bottle Christmas Tree
We hope you felt inspired by some of these ideas we sourced! Feel free to share your ideas in the comments section below.