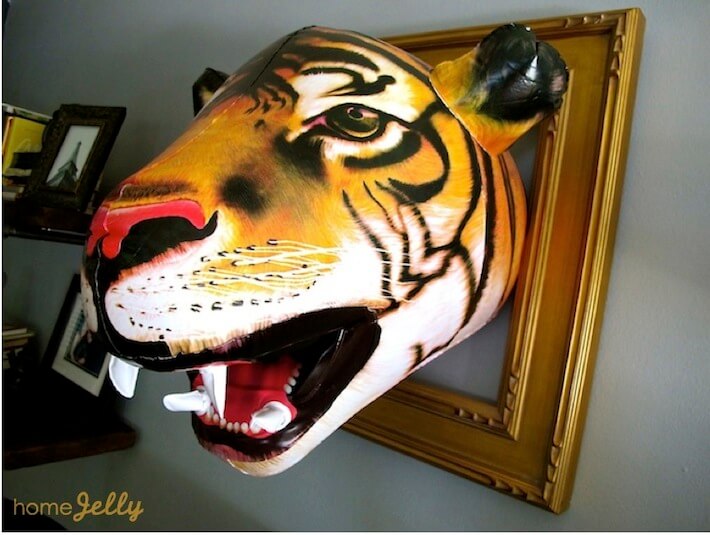 When it came to re-imagining Matt's and my living room space, I decided to channel my "inner tiger" and take bold chances. I believe I did just that with design choices like placing a pearl white leather sofa against slate blue walls, reclaimed wooden shelves with pipes as hardware, and a custom reclaimed wood console table. So, when it came to accessorizing, I knew I wanted to continue infusing elements that represented our personalities, all the while being mindful of, what the kids are calling, "transitional" design. I've been nervous revealing my home to y'all for fear of being judged…but, I've decided to take a note from Tony the Tiger and keep telling myself that my decisions, right or wrong, look "Grrrrrrrrrrreat!"
It's probably no surprise that this inflatable tiger head
above is one of our most favorite features. I had this gold frame and thought he'd look great popping out from inside, adding that punch of humor that I believe every room should contain. It also reminds me to not take life too seriously…and it makes me giggle.
We live in a the "tree section" of Manhattan Beach, a neighborhood where the squirrel population practically outnumbers us humans. Still, we love them very much, (Klunkers' best friend is a squirrel named "Spencer") so we decided to pay homage to them here. The top drawing I found on MisNopalesArt shop on etsy, the second was cross stitched for us by my Aunt Mim.
We were in need of a functional entryway, so I discovered this very cool repurposed level turned coat and hat rack at PerfectPatina's etsy shop. I loved its vintage and DIY feel, something close to my own heart! I added a portrait of Klunkers, painted by my wonderfully talented mom-in-law, Roseann Munger. Adding our four-legged son to this piece was a no-brainer.
Adding to the vintage and humorous feel of this room, I stumbled upon this quirky gem at the Long Beach Antiques Flea Market. Matt and I are passionate dog lovers and fans of all things silly. The lovely painting that ties in the doggie's red wheels was another by Roseann Munger.
I absolutely a-love this mirror, as it reads industrial, yet feminine. Ironically, though I wanted to soften the hard edges of the shelving and tables with this round Alita Champagne decorative looking glass
, this turned out to be one of the most bad-ass elements of the room!
Though we were late-comers to the hit tv show, "Mad Men", we instantly became fanatics. I'm secretly hoping I'll get a call from Don so I can knock talk some sense into him!
My band rehearsal room always had a dart board. Luckily, I found this one at a garage sale for $5 bucks. On the customized cabinet sits a vignette of my favorite books, and a touch of my heritage, a Swedish Dala Horse Serving Bowl
I received last Christmas.
Of course, I had to add new pillows, so I decided to make some! Here is one of my favies…the humor is not lost on my husband! To make some of your own, purchase one of the several of my how-to ebooks and get sewing!
How'd I do? Which accessory in your home is your favorite?
All photography by Skaie Knox, HomeJelly
This post contains affiliate links.