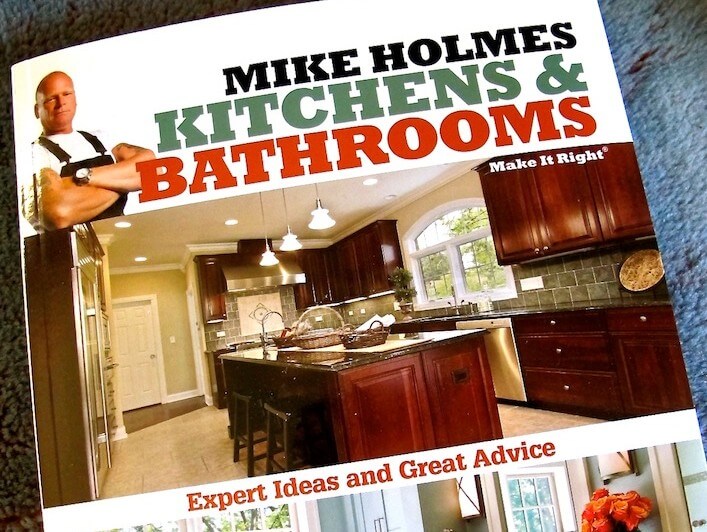 Over the past three years of blogging, I've collected an impressive card catalog of DIY and design/decor reference books. I was recently sent another to add to my collection, Mike Holmes: Kitchens and Bathrooms. HGTV star, Mike Holmes (Holmes on Homes and Holmes Inspection…btw, could his name be any more apropos!?!) is more than a general contractor, he is an advocate for "making it right". Just look at his dedication:
This is not a DIY book. It is a reference guide to help keep homeowners in the know about what to expect, what to look out for, and what options we have when it comes to the choices and/or challenges involved in kitchen and bathroom renovations. In fact, Mike makes it clear that there are some home projects we need to leave to the professionals. Dually noted, Mr. Holmes.
I must say, after reading this very easy-to-follow-and-understand remodeling reference bible guide, I actually feel smarter. Seriously…I actually feel like my brain has grown several millimeters (figuratively, of course) and that when I plan my very first kitchen and/or bathroom remodel, I know that I am now armed with the knowledge that will save me money, time, and the inevitable headache that these sorts of home projects can cause. How's this, now? Well, I simply "got it" because Mike gives it to us straight, mixed with a little tough "home renovation reality" love. Lean in closer, now…and let's take a look at an example of what I mean via this short blurb from his introduction:
"So many bad remodels happen because the homeowners and the contractors don't want to spend the time or the effort making things right behind the walls first-they just want to jump right into choosing the counters and faucets and fancy finishes. That's putting the cart before the horse."
Get comfortable now as we take a quick peek of the highlights I most enjoyed from Mike Holmes: Kitchen and Bathrooms…
What you see. What I see.
I loved this part of the book…it's like having the Jason Bourne of renovation having your back. Professionals and tradesmen like Mike have the experience and expertise to "see things" we don't. Now, we can look for those types of renovation "red flags" ourselves.
Mike's Tip
Larger projects that require tearing down walls seem doable, but there's more than meets the eye. Mike knows this and highlights his tips so we don't miss the bigger picture.
Mike's Remodeling Checklist
Not only is this a reference guide, it also contains checklists to keep us on track and aware of each step in our renovation process (and also have a better understanding of what our contractors should be doing as well). Leaving things to the professionals doesn't mean taking our hands off the wheel. Mike encourages us to be proactive and keep an audit of projects as we go.
What's Really "Green"?
I really appreciated this section of the book. As a green advocate, I was excited to learn Mike is, too. He also educated me on green standards and considerations when installing certain products. When it comes to building systems and integration, it can get pretty specific and detailed. Needless to say, there will be a definite re-read of this chapter in my future.
Countertops At A Glance
Anyone who knows me, knows I'm not a fan of granite (Okay…yes, it's fine, but there are other surface material options people!). Thank goodness Mike gives us the low down on alternative countertops and what to consider when choosing this very important element of our kitchens and bathrooms.
What to Consider Behind Beautiful Bathrooms
Behind beautiful bathroom, there is a system of plumbing, electrical, flooring and duct work that can impact the outcome of a renovation. Consider this book as a sort of big brother, looking out for you, but giving it to you real. As Mike would say, "Plan it right. Build it right. Get it right the first time." Right on, Mike.
Purchase a copy of Mike Holmes: Kitchens and Bathrooms, price: $26.93.
Photos of page views were taken by Skaie Knox, HomeJelly. See page 4 of Holmes: Kitchens and Bathrooms for book photography credits.