Well. I'm gonna hit the big "5-0" this year.
Or, rather…"5-Oh, sh*t!"
But, actually, after a lot of reflection, I've realized just how at peace I am about this monumental, landmark birthday.
Why?
'Cause I'm officially now a signed ROCK 'n ROLLERRRRRRR!!!
Yep. And it only took 30 years.
How did this happen, you ask?
In a nutshell…I was in the right place at the right time, and worked my tushy off to be there.
The Backstory in a Nutshell
I had just finished recording an end title song for a short film here in LA called Any Other Friday, directed by Peter Basler, staring Gregory Itzin – 24, Desperate Housewives, The Mentalist; and Christine Rose – Heroes, Heroes Reborn, How to Get Away with Murder.
Chris Coyne, the audio engineer, on this project mentioned I should submit some of my 80s music to this era-specific record company called, Fervor Records…so, I did.
Why not? This music was only collecting digital dust.
A week later, and to my fun surprise…they loved it and eventually bought all 19 songs!
Wha-what?!?
To date, they've already placed one of our tunes called, "Gimme Your Love" on Bravo TV's A Girl's Guide to Divorce (season 2, episode 5- click in to view and listen).
Ah…it feels good to have these "kids" out and into the world again.
The Album Drop on Fervor Records!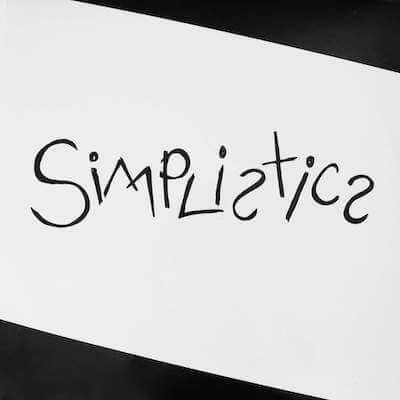 And, like I said, it only took three decades to get here. Yes, Fervor Records has also just released my band's self-titled EP, "Simplistics", recorded 30 years ago almost to the DAY!!!
How freaky is that?!? You can now purchase and download my authentically 80s recorded album on itunes, amazon and spotify!
If someone had told my 19 year old self that I'd have a record deal from that session in 1986, 30 years from then, I would have thought they were koo-koo for Cocoa Puffs!
Who wouldn't, right?
But, the truth is, my former bandmates (Steve Schroeder, Frank Servas, and Bob Hotel) and I couldn't be more thrilled, honored, excited and, most importantly, validated for all the hard work and hours, hours, hours we put into our music for those many years.
Now, if I haven't already mentioned, I know this post isn't about home decor, but, I do believe you'll enjoy listening to "Simplistics" while you're DIY'n this weekend!
Our New Label
Now, what's so special about Fervor Records, a Phoenix, Arizona based label, is the dedication and focus it places on exposing and promoting era-specific music from bands with really good songs to music supervisors from television and film production companies.
Founded and run by Dave Hilker (CEO), alongside Jeff Freundlich (COO), the label's mission is to discover well-written and recorded songs with a specific emphasis on authenticity – tunes written, performed, produced and recorded years, even decades ago with of-that-age technology (or, rather, lack there of!) that cannot be reproduced.
"It's like we're on a treasure hunt, looking for musical gold," states Jacob Nathan, creative director of Fervor Records. "There is so much music that's yet to be heard by the world, and we're excited to bring it to the attention of these music supervisors."
In an interview with Phoenix New Times, Hilker is quoted as saying with a grin, "The unique thing about Fervor Records, is that we don't make our money selling records. We make our money licensing music. Our artists make more on performance royalties than they would selling CDs."
Yes, please. And…thank you!
This go-to label for some of the top music supervisors in the country include television and film credits such as, Gracie and Frankie, Chicago Fire, Blacklist, NCIS, Mad Men, Girlfriend's Guide to Divorce, It's Always Sunny in Philadelphia, Nashville, Enough Said, The Do-Over, Nice Guy, and many others.
The Interview
With that, I thought I'd ask Jeff a few questions:
1. What sparked the idea to start an "era-specific" record company?
Jeff: There were a variety of puzzle pieces that came together that set us on this amazing journey of uncovering vintage music gems, but if I had to pick one piece to focus on it would be this: The number one rule of business is to use your ears and mouth in direct proportion to each other. Always listen twice as much as you speak.
Since we license a ton of music to film/tv, we listened to our clients, which are primarily music supervisors. They were looking for vintage music. Related to that, Dave and I love a good treasure hunt. We love digging this stuff up. And we love perpetuating the legacies of artists whose stories deserve to be told and whose music deserves to be heard.
2. What do you find most challenging and/or more POSSIBLE when placing music for TV/film projects today?
Jeff: The best part about licensing music is that everything that is well done is relevant AT SOME POINT. We don't know WHEN great music will be licensed, but we know it WILL be licensed eventually.
We've been doing this long enough to trust our ears and we have been doing this long enough to establish a track record so artists feel comfortable signing with Fervor Records.
3. What first drew you to the music of Simplistics?
Jeff: Simplistics were a no brainer. Great tunes and great vocal performances. We were hooked on the first listen.
Enough said.
And that's the name of that tune.
A special thanks goes to our number ONE fan, Steve Cowman. He attended almost EVERY one of our gigs and even joined us on tour. Thanks Slammer!
All photos, except where indicated, by Simplistics for HomeJelly