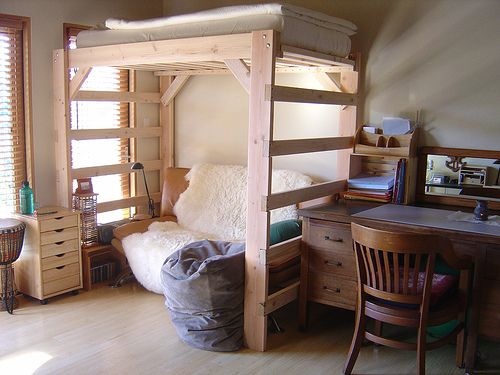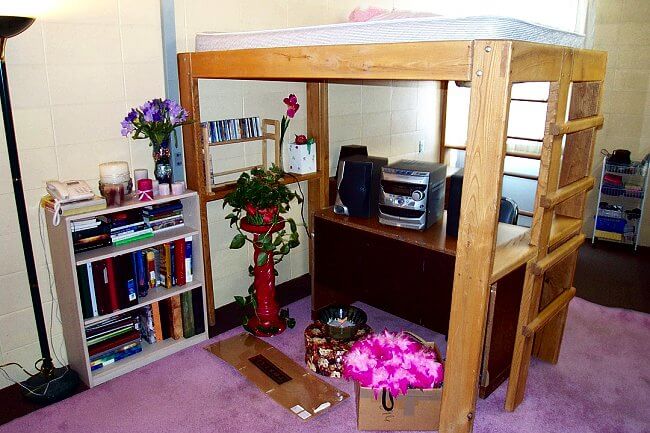 Let's face it…dorm life is a sweet and sour experience that, if missed, is well, missed. Aside from the unknowns of roommates, privacy, and noise control, we do have the ability to add sugar to the situation and design a dorm room to accommodate most of our needs.  One being, ironically, to increase the space of a very small space.  The average square footage of a college dormitory is approximately 12′ x 19′, and with two people, that's pretty tight.  Solution?  Create a loft for your bed to increase the space for a study or sitting area. Sweet.
Follow these straight forward instructions, by Eliazar Platt of eHow, along with our DiggersList "Things You'll Need Listings" for discounts on supplies.  Grab a buddy, or invite your parents for a DIY visit to your school, and have "lofts of fun" with this project.
Here's what you'll need:
Here's what you do:
Measure. The size of your bed, the height of your ceiling, the distance between the top of your head and the bottom of your mattress when you are sitting up in bed. Also think about what you would put under your loft bed (e.g., a couch, a chest of drawers, a desk or general

storage

).

Cut the plywood to fit your bed. Make it at least 3 inches longer and wider than your mattress.

Cut all five 6-inch x 6-inch beams to length. For example, if you have a 10-foot ceiling you could cut the beams to 6 1/4 feet, place a 10-inch mattress on top and still have 3 feet of headroom.

Cut the 5-inch x 3/4-inch planks to length. On three sides these planks will be 12 inches shorter than the length of the plywood. On the fourth side, you're going to build a ladder.

From the additional 5-inch x 3/4-inch planks cut to length support braces. Though the plywood will hold most people's weight, it's always better to have a little extra support. Three should be plenty.

You will have additional 5-inch x 3/4-inch pieces. Cut 6 to the same length (18 inches or so) and miter on both ends to 45 degrees. You will attach these to the beams and the plywood for even more support. Cut an additional six 3-inches x 24-inches for rungs for your ladder.

Sand all surfaces.

Stand the plywood on its longest edge. Lay the 6-inch x 6-inch edge of two beams against it. Attach the beams flush to the bottom and the outside of the plywood using at least 2 screws.

Carefully stand the beams up. Make sure you support the plywood with one hand so that its weight won't pull out the screws.

Make your buddy hold the plywood aloft while you attach 2 more beams on the other side. Now you have what looks like a really high table.

Attach the fifth beam 24 inches from the beam closest to where you want your ladder.

Attach the 5-inch x 3/4-inch pieces flush with the outside edge of the legs.

Attach support braces.

Build your ladder. Space the 6 rungs evenly (if you need all six). Use at least 2 screws making sure they're long enough to support your weight.

Attach the mitered pieces. Place them directly behind the 5-inch x 3/4-inch planks. They will be set back 3/4 inch on the beams.

Stain or paint.

Toss your mattress up there, climb the ladder and enjoy a good night's sleep. You've earned it.