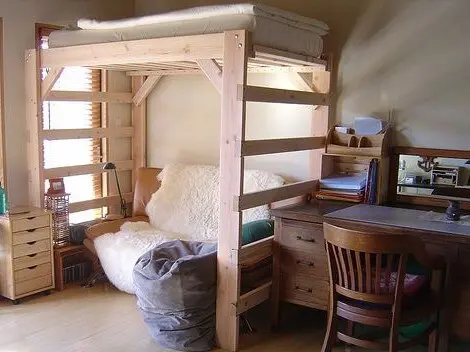 This is a sponsored post that contains affiliate links.
Let's face it…dorm life is a sweet and sour experience that, if missed, is well, missed. Aside from the unknowns of roommates, privacy, and noise control, we do have the ability to add sugar to the situation and design a dorm room to accommodate most of our needs. One being, ironically, to increase the space of a very small space. The average square footage of a college dormitory is approximately 12′ x 19′, and with two people, that's pretty tight. Solution? Create a loft for your bed to increase the space for a study or sitting area. Sweet.
Follow these straight forward instructions, courtesy of eHow, along with our DiggersList "Things You'll Need Listings" for discounts on supplies. Grab a buddy, or invite your parents for a DIY visit to your school, and have "lofts of fun" with this project.
Supplies:
• Plywood
• Stain or paint
• Lag bolts 1/4 inch X 2 1/2 inches
Tools:
• Circular saw
• Power drill
• Orbital sander
• Tape measure
• 6′ Step ladder
Instructions:
Click in here for full instructions.
This post contains affiliate links to the tools and supplies we used in this project. This means we will receive a percentage of the sale if you make a purchase using these links.