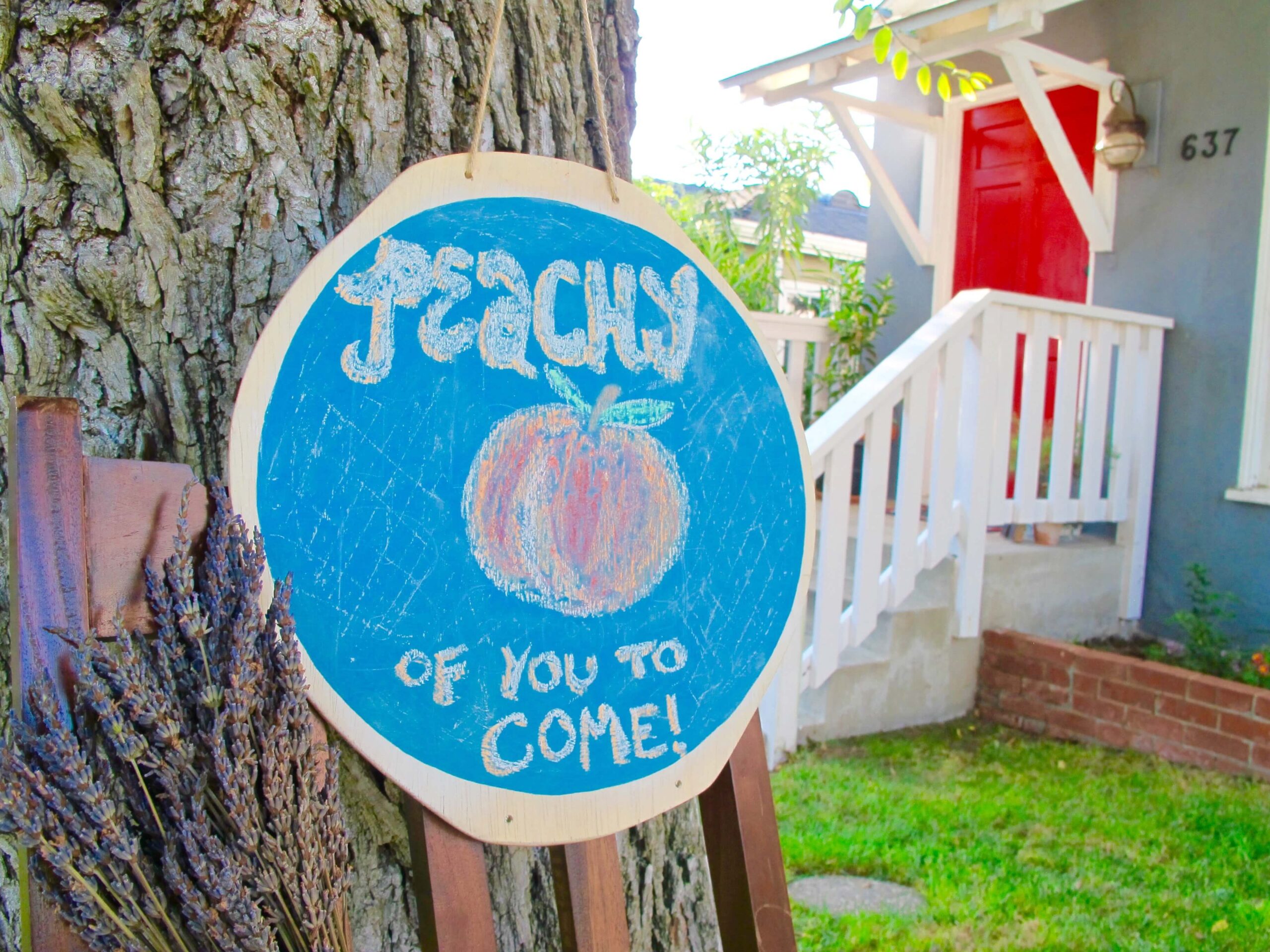 This post contains affiliate links.
Living through a boring party is like watching a really bad movie: it's a waste of life. Ugh.
When it comes to throwing them ourselves, we certainly don't want guests leaving early or later secretly hoping they'll be taken of our "list". (Noooo!)
So, after many years of thank you notes, emails, texts and Facebook "likes", I've come to recognize I do a pretty good job pleasing party guests. I recently threw an "It's Been a Peachy Summer" shin-dig which ended in a great success (cue: a tiny tip of my hat)!
Therefore, I thought I'd unlock and open my party planning box of tools and share these five easy tips with y'all that will make your next, and hopefully, all your future parties memorable and fun!
See Also: Party Decorating For a 'Get to Know You' Family Reunion
Tip #1: Don't throw a party all by yourself!
Recruit your partner, your best friend(s), and even guests to contribute. This will not only save money, it'll save you the stress of having to take care of every detail. Here are some things you can ask them to do:
• Ask a bestie to create a signature cocktail: most of us have that fabulous friend or family member who just a-luhvs to get creative! Recruit them, then brag about the drink on your invites! Little party details like these striped straws can add a lot of fun and a pop of color.
• Ask a close friend/family member to bake their favorite dessert: my brother is the family baker and we ask him to make something all the time – delish! We even had guests asking, "Did Ian bake anything?!?" Boom.
• Recruit the techie in your family/band of friends to set up the VA (visual/audio): Matt (my hubby) is always in charge of this task. It's SO helpful. Extra tip: just be sure to be CLEAR on a start time so they can finish before the party begins…ya gotta have music play'n as guests arrive!
• BYOB – Bring Your Own Booze: a simple request for guests to bring beer or wine (if they so desire) is all you need. Though we served a signature cocktail, we thought it prudent to ask just in case someone wanted something different.
Tip #2: Plan a delicious, but doable menu!
Pinterest is the new Martha Stewart of unattainable expectations (right, girls – ugh again!). So, do yourself a favor, if you're gonna go nuts on the menu, choose maybe one or two specialty items (perhaps just appetizers), then make the rest of the meal simple. We had two fancy peachy apps, store-bought veggie crudité, then brats and potato chips (three different kinds, mind you, but no prep was required!).
Extra Tip: Arrange some seating near the BBQ to include the cook in all the fun!
Tip #3: Have good music playing…ALWAYS!
There's nothing that kills a party more than silence. Now that there are music apps like Spotify, Rdio, iTunes Radio, and Google Play Music (even your TV, with endless music channels and apps), it's easy to set the perfect tone and energy for any occasion.
Tip #4: Provide activities and something unique for your guests!
I don't know about you, but, providing only music and food a party does not make…well, not in my book, that is. It's different if it's a small dinner party, perhaps. But, even then, there's always a way of offering something unique and entertaining – something your guests will remember far beyond that night. Here are some examples:
• Outdoor movie experience: there's nothing like watching a movie under the stars! There are lots of affordable projectors like this one for under $80, this one under $100, another that's mid-priced on the market today, or borrow one from a friend!
• Video Show: If your guests aren't interested in a full feature, throw up an extreme sports video, turn down the sound, and blast the music. It's a great way to infuse techno-coolness and a happening, night-clubby illusion (a great trick, btw!).
• Ping-Pong/Botche Ball/Horse Shoes/Corn Hole contest: there are endless games that can be played inside or out – like ping-pong, botche ball, horse shoes or corn hole and this will also encourage any wall flowers to interact and possibly show off their athletic/gaming prowess.
• Photo Booth: if you set a special place in your party, along with fun hats, glasses and other props, you'll have your guests snapping off silly Instagram images all night! Here are some great DIY photo booth examples.
• Sidewalk/Driveway Chalk Art: surprisingly, this can turn into something fun for kids and adults! Your local craft store has all kinds of colors or grab a box of sidewalk chalk here.
• Petting pen: apparently puppy parties are all the rage. Why not create a mini one of your own!?! Though not everyone is a dog-lover, penning your pup will keep them from under foot, and it'll please your pup(s) by including them in the fun!
• Fire pit: who doesn't love a good fire, right? It's an instant conversation starter and is very romantic and/or cozy. DIY one, or there are many fire pit tables available on the cheap!
Tip #5: Decorate like a Diva!
My Aunt Mim (THE decorating diva!) taught me, by simply adding creative party decor touches, your guests will always feel special.
• Entryway: add a simple vignette that includes a welcome sign or balloons or banner. It's a great way to decoratively say "Welcome to the party!" Check out this peachy banner's how-to!
• Lights: holiday lights aren't just for the holidays. String these outdoor weatherproof lights overhead and you'll instantly brighten your backyard, creating a festive atmosphere at the same time.
• Food table: follow the "Triangle Table" rule and you'll always have an interesting and functional table. Set up food tiers at different heights (like using vintage buckets/baskets/crates), making seeing and dishing up easy. Then, add fun touches like flowers, thematic props and DIY'd signage or banners.
• Drink table: there should always be a bar cart or separate drink table (situated near handy bins for waters/soft drinks, recycling and trash), which caters to kids and adults (if your soiree includes young 'uns). Another simple trick is to dress the glasses – ideas include colorful straws, I.D. tags, interesting glasses, etc. Don't forget your signature cocktail, too (click here for our recipe for peach punch…scroll down to the bottom of the post).
• Bathroom: most everyone will visit your loo, so, why not welcome them there, too? Scented candles, flowers or a thematic trinket are ways to display more party decor detail.
Now it's Your Turn!
Got any party decor tricks up your sleeve? Let us have it!
All photography by Skaie Knox, HomeJelly