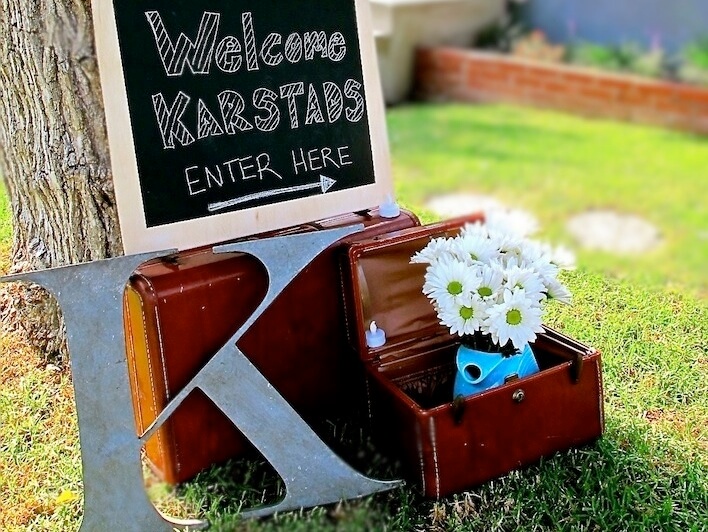 Every three years, my family gets together for a four day long reunion, switching from Minnesota one year, then California the next. We've been celebrating our togetherness for decades now, but it seems in recent years, our head-count has been growing by leaps and bounds! No problem! The more the merrier!
Still, with a growing list of family names to remember, let alone learning about what everyone's up to these days, new people can feel lost in the crowd and looked over, especially when you've entered a group who's known each other since childhood! Yep, this year would be different!
So, as hostess of the "Opening Day" party, my challenge was aimed at creating party decorations and an itinerary that would encourage "get-to-know-you" experiences where everyone would feel welcomed and seen.
Welcome Sign
There's nothing like an event that greets your guests with a "Welcome to the party!" and "You're at the right place!" It's simple to do by placing clear signage and a fun and cute vignette out front like this one below. It also sets a special tone for your guests.
Entryway
Many backyard parties are, um…in the back yard! So, if you prefer to have your guests walk along the outside of your home, string some fun lanterns or flags to guide them along the path. Note: these lights also lit the way back to the bathroom area later that night.
Delightful Light Feature
There's something about a special feature at a party that raises its specialness a notch. I call this a "tree chandelier" that not only lights up the party, it offers a sort of moving art piece that is oh, so festive!
Photo Booth
Photo ops are all the rage these days because they encourage guests to capture the moment in pictures. You can also provide silly hats, wigs, glasses and other party paraphernalia that turns a regular image into a framer to remember!
We later moved our Karstad banner with this year's reunion logo for our group photos next to our curb to refurbbed deck chair bench. It pretty much stamped our name in the book of awesomeness. Seriously, our family could write a book on this stuff.
The Drink & Food Table with Menu
The absolute 101 of party decorating is to create areas for drinks and food. Separate stations promote movement and mingling. Trash and recycling receptacles can be part of the fun decor and should also be easily accessible and identifiable.
I made the chalkboard signs from scrap wood and the menu board out of a deconstructed IKEA entertainment center – it's one of the doors with a handle I painted to look like a mushroom (*wink!). Note: by the way, all the colorful tablecloths were fashioned out of fabric scraps to represent our Norwegian heritage.
A Special Homage
"Because two people loved each other." I adore this sentiment, so, I thought it was appropriate to pay special homage to my Grandpa Raymond and Grandma Maude Karstad by asking my very talented brother, Ian to draw their caricature in sidewalk chalk. Note: if you are interested in hiring Ian for caricature services or to learn more about his art, visit his website.
SWAG Bags!
A friend of mine who ran a company that put together all the outrageous swag bags for the Oscars recently told me that "SWAG" actually meant: something we all get. I love that! Therefore, this year, we decided to give a mini-version to our out-of-towners as a special token. The goodies included sun screen (of course!), nuts, gum, candy, a Karstad water bottle, and a schedule of the long weekend's events, along with a phone list.
Strategic Seating & BBQ Placement
To create a cozy and inclusive atmosphere, I made sure to place seating for our less mobile guests in the middle of the action. This way, they could be involved in the conversation and game playing with absolute ease!
When you've got lots of mouths to feed, the BBQ duty can go on for hours. Similar to an open concept kitchen, just make sure to move the BBQ (if possible) to where others can help and the cook can join in the fun.
Seating options…blankets, beach chairs, and comfy loungers, oh my!
With back yard events, anything goes when it comes to seating accommodations. Instead of spending time and money on rentals, ask guests to bring blankets or beach chairs. It never fails…this casualness invites guests to relax and stay a while. It was also perfect for movie-watching!
Thank your people!
So often as hosts and hostesses, we forget to thank our co-hosts and helpers. To side-step this faux pas, I want to give a special shout-out to my mom, Lois for helping me waaaaaaaaay in advanced of this wonderful event. Thanks, mom!
I'd also like to thank my husband, Matt for putting up with all my pre-planning and DIYing of the photo booth bench, the "Have a Seat" bench, the solar light chandelier, the repurposed garden mirror, the BBQ cart, and the many other mini-projects that took most of my early-in-the-summer weekends.
I also want to thank my brother, Ian for the fabulous caricature and reunion logo, Heide for all your amazing organization, planning, pre-party help and SWAG bag stuffing, Meghan for the fantastically unexpected reunion banner, Ronan for co-manning the BBQ, and Asiana for being a fabulous during-the-party helper and co-cook.
And, of course, to everyone for traveling so far and making this an unforgettable opening night! Thank you, thank you, thank you!
Do you have any helpful tips for throwing a family reunion party? Do tell!
All photography by Skaie Knox, HomeJelly