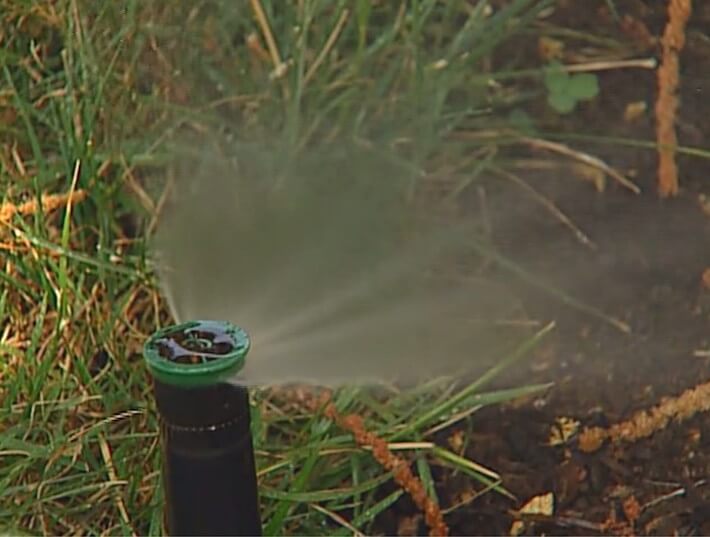 With the first mandatory water restrictions facing Californians (the rate set at 25% on the state's 400 local water supply agencies), I thought it would be prudent and handy to pass along some helpful ways we can spruce up our often wasteful sprinkler systems. I'll be checking mine, which we DIY's last summer. Why not? With just four easy steps, you'll be on your way to being top dog on your neighborhood's H20 conservationist list.
• Inspect.
Check your system for clogged, broken, or missing sprinkler heads. Better yet, go with a pro—
find an irrigation professional
certified by a WaterSense labeled program to do the work for you.
• Connect. Examine points where the sprinkler heads connect to pipes/hoses. If water pools in your landscape or you have large soggy areas, you could have a leak in your system. A leak as small as the tip of a ballpoint pen (or 1/32nd of an inch) can waste about 6,300 gallons of water per month.
• Direct. Are you watering the driveway, house, or sidewalk instead of your yard? Redirect sprinklers to apply water only to the landscape.
• Select. An improperly scheduled irrigation controller can waste a lot of water and money. Update your system's schedule with the seasons, or select a WaterSense labeled controller to take the guesswork out of scheduling.
These tips were provided by EPA WaterSense. Learn more at their Sprinkler Spruce-Up Page. Read more on California's mandatory water restrictions and the drought explained.
All images and video courtesy of EPA WaterSense.