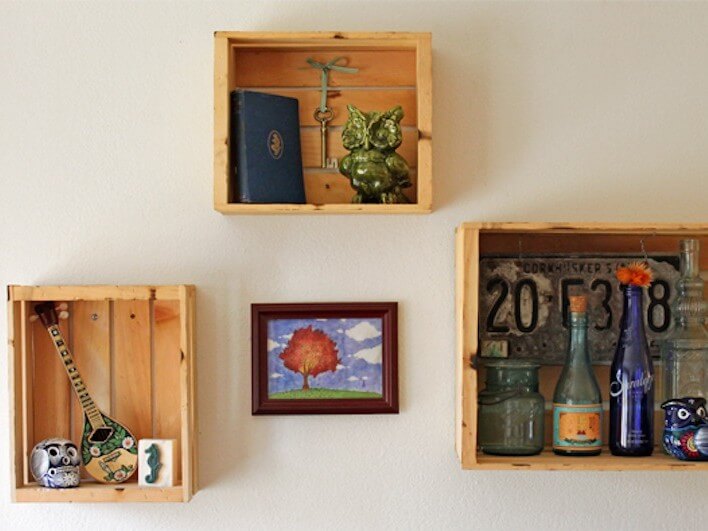 There are certain things in the world that are timeless: wool blankets, framed mirrors, Cararra marble countertops and today's featured item, vintage wooden crates. I've been having a love affair with them for over a year, in fact, I've got a couple in my backyard, waiting to be given attention as we speak (see, now our "Have a Seat" crate bench). You can find these crafty crates at flea markets, antique shops and even online, but they're often in a raw, unfinished form. I believe their potential is just right at the surface, hollering for someone to transform them from a before to an after. So, with that, I thought I'd offer up some useful and stylish storage ideas to help inspire you to make your crates (stored or soon-to-be found) go from good to great. Halla!
Bookshelves crate (top photo): Mrs. Greene saw potential in these not-so-raw wooden crates and actually gave them a "make-under". The muted grey she chose was just the thing to class them up and make a feature wall for books and family nick-knacks.
Personalized milk paint storage crate: with a simple watering down of white paint (to a milky consistency), this vintage box is given a sensual, wash and personalized stencil that results in a posh and stylish storage option.
Blanket crate on casters: who knew just a can of stain, some rope and four casters would transform a wooden box into a family heirloom? I love just about anything that rolls, ya know. I'd personally love to top this puppy off with a piece of padded plywood to multitask it into a bench as well. Hmm…maybe I'll try that.
Provence planter crate: the awesome thing about crates is that they are so easy to DIY into something new and useful. I've recently discovered how e-e-e-asy it is to decoupage, and this project takes advantage of this beautiful technique. You can find all kinds of beautiful images online, or make one yourself and bam!…you've got yourself a new planter.
Wall shelving crates: instead of buying expensive shadow boxes, try using wooden ones. I've got a feeling these aren't quite vintage, but they imitate the real thing quite nicely. Coffee was used to stain the wood a bit, and a lighter helped give it that "antiquie" look. Brilliant, resourceful and cheap…bravo!
Nightstand crates: raw or stained, these old wine crates make for a surprisingly modern and repurposing grand- slam-thank-you-ma'am night stand.
If you're a wood purist, try these on for size: "Room For Squares" ideas for raw crates.
Do you have crates in your home? How do you use them?