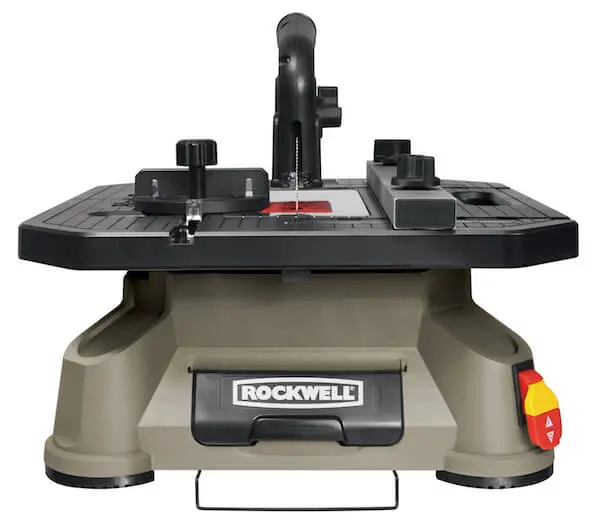 Is it weird to think a tool could be sexy? I don't care. This one definitely gets my heart racing.
Or, it could be that, FINALLY, someone came up with a fabulous multi-functional power cutter perfect for DIYers and crafters like me…hurray! (Is it getting hot in here?)
I was recently approached by Rockwell to check out several of their latest gadgets such as the 4-amp mini-circular saw kit w/laser, 20v drill/driver, 20v hammer drill, 20v impact driver, compact circular saw, Sonicrafter – a 4 amp oscillating multi-tool with hyperlock, Jawhorse – a portable work support with 1 ton clamping force, and…sigh…the BladeRunner X2.
Yep! That's the one. It had me at "Go Anywhere, Cut Anything table saw" – wood, metal, plastic, aluminum and ceramic tile using five interchanging blades. It can make miter cuts, intricate inside cuts, and even rips. It weighs only 13 pounds and has a setup that's super simple.
In the coming weeks and, I'm quite certain, throughout the next year, I will be working very closely with this amazing table saw, creating new and now, doable decor that will hopefully inspire you to start DIYing with power tools as well!
For now, I thought I'd start with the basics of how to use this cutie-pie cutter by illustrating a hands-on how video, "How to Change a Blade".
(Hmm…I'm suddenly in the mood for chocolate.)
This is a sponsored post. The opinions are completely my own based on my experience.