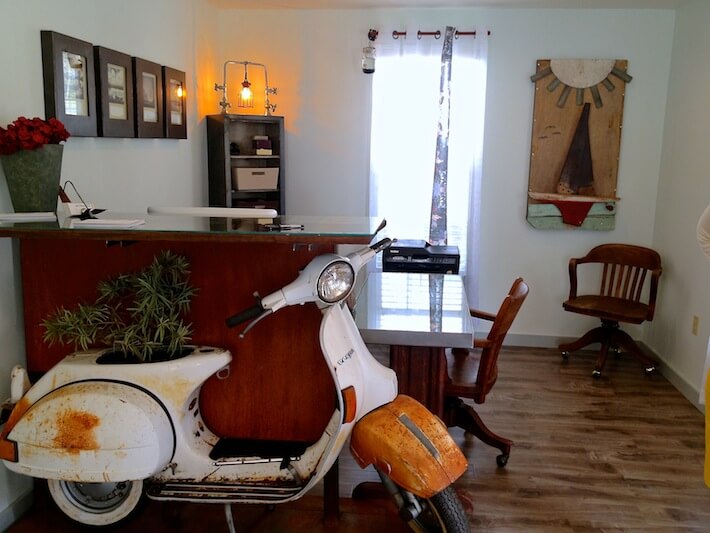 The first time I met Ben Bullins in person was…well, it was by total coincidence. I was in New Orleans working on a HomeJelly project and stopped by an art fair taking place in a nearby park. I was quite familiar with his work and asked this tall, lanky local if his name happened to be Ben. Yup. What an awesome surprise! I was so thrilled to meet him and to grab a glimpse at some recent pieces he had made reusing musical instruments donated by Big Easy musicians. I giddily snapped off several photos and since then, I've blogged on and followed this talented artisan, waiting for the day that I could afford to purchase one of his gems for my home.
About a week ago, I had the honor of interviewing Ben about his latest project: repurposing a Vespa scooter into an office reception desk. Now, to all my "modsters" out there, and you know who you are, this one's for you! Ben tells a darn good story (with a fantastic South Louisiana accent, I might add), so I'll let him take the mic…
What is your background in furniture-making and home decor DIYing?
I'm kind of self-taught, but not by choice. When you're a teenager and later going to college, you've gotta make a living somehow. So, my brother had a construction company, mainly doing HVAC and electrical. I would have to go work with him in the summertime. When you're a kid, you don't want to have to work, especially when you're sitt'n in an attic doing AC work in the middle of summer in south Louisiana…it's not really the place you wanna be. But I did. And now, I'm very fortunate to have had that experience.
I started with my brother when I was 15-16 years old and still help him today when he has a big job. Being in that industry you pretty much have to learn everything about a house. Sometimes we're tearing out walls, running wires, or putting in an AC system. You have to do plumbing, electrical and even shingle roofs. Doing all that work with my brother has enabled me to have behind-the-scenes knowledge. So now, when I come up with a creative idea, like a custom light that I wanna do, I can not only come up with and execute the building of the piece, I can also build it with installing the piece in mind. Like when I did the "Bicycle bathroom" I was able to take all my measurements and knew where to run the plumbing. Having that background allows me to have an upper hand in what I'm doing today.
What inspires your designs?
It's kind of the way I see things. I started off doing fine art pieces (non-functional). I was schooled in fine art and photography, working as a professional photographer for interior design magazines…up until Katrina. Before Katrina, I had never done "found object" artwork projects. Katrina flatlined my doing photography because the city was just shut down, so I went back to construction-that's what I knew and that's what was booming. Meanwhile, in the process of doing construction around the city, I noticed all these, what I called "beautiful pieces" just laying on the side of the road that people had thrown out. Like, there was this old cypress window. I started seeing things for the beauty that they had. I starting salvaging some things and putting together a little body of artwork.
Construction was what I knew. Photography and interior designers helped educate me in decor…everything was a building block to getting me to where I am now. I pull pieces from my collections and relate them back to what I've done in the past like when I did construction. Full circle moment-I never knew I'd be using the same tools back in my construction days in the work that I do now.
Why did you use a Vespa scooter?
My friend was opening a therapy office in Baton Rouge and I was helping her with the decor. One thing she mentioned was that she had always wanted a Vespa scooter. I just tried to think creatively…what can we do to get some pieces in there that can be real personal, real cool and eye-catching? So, I decided to surprise her and went on a hunt for a scooter. We did some checking on one in Texas and online. Every one was reasonably priced, but they wanted a fortune to ship it. So then, I remembered a friend of mine.
When I was in college, I worked in a photography studio on campus. The professor who ran the photography department had a Vespa he rode to get to work. Ten years later, when I asked him if he still had his Vespa, he said that he did and that it was just sitting on the side of his house (the same house that was just about one mile from the campus). He was gonna sell it…it needed a ton of work. So he said if I gave him a reasonable offer, he'd sell it to me. I then ended up selling off all the parts I didn't need to a guy who owns a scooter shop (for pennies on the dollar), so he could upcycle and rebuild it for someone else. I'm still really good friends with the original owner-he was thrilled that I used it in a piece.
What materials did you use and why?
I used a vintage Vespa scooter, salvaged cypress wood for the top, angle iron, sheet metal with rust patina, synthetic grass, glass, and salvaged steel table legs.
I love the play between hard and soft, texture lines and color. It's storytelling with salvaged materials. I want my pieces to ask the viewer to call upon their own life experiences. "The grass is always greener"…I etched into the glass of the lower desk was added to provoke the clients in the therapy center to reflect upon this common saying. I love how the rust patina is in contrast with the smoothness of the sheet metal, glass and sanded wood. How the angle iron wraps around the edge of the table and the glass showcases the synthetic grass underneath it. I also like when my functional art inspires other people to find their own stories in my pieces. They'll give it meaning I might not have intended…and that's cool.
For our HomeJelly DIYers, if they wanted to try something like this at home, what is your tip to making something like this successful?
First of all, never be afraid to mess up. I tell this to my two children doing an art project. The hardest part is making that first cut, that 1% beginning of the project. Don't be intimidated…it's coming from you…you can't mess it up. Secondly, just take the first step…get started! Figure out if you want to do a table, look at the aesthetics and go for it. I've never done a Vespa desk before…I just had to keep figuring out how to do it by getting around the road blocks.
Thanks, Ben for sharing your story. If you'd like to see more and/or purchase any of Ben's work, visit his website at TheBenjaminCollection.com.
Tell us what you think of this Vespa desk…have you tried to DIY anything like this?