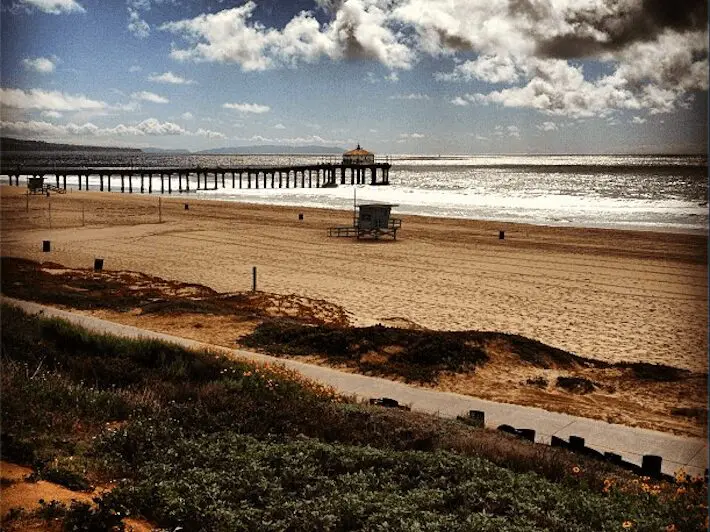 When I first moved to the South Bay, a small gathering of beach towns nestled along the coast of Southern California, I became involved with a mysterious new lover…the Strand. Starting from the jetty of Marina Del Rey, this concrete winding pathway stretches all the way to the top edge of South Redondo Beach. Bicyclists, runners, roller bladers, and people walking (many with their K9 kids), frequent this most scenic and alluring beach-lined trail. It's easy to forget you're in the depths of Los Angeles.
Now, after twelve years and many miles traveling the Strand, I have lavished in and been inspired by the sights that surround it and the ever-evolving composition of both nature and architecture. As a budding home decor and design DIYer, I'm learning from people like Barbara Barry and Genevieve Gorder, that we can discover new color palettes, textures, and form simply by viewing the environment in which we live.
Throughout the seasons I notice the color of the ocean is never the same and actually changes everything around it. The patterns in the sand are masterfully etched by the wind, and the clouds seem to mirror the fluffy, bubbling white wash of the crashing waves. Sea grass and palm tree fronds playfully dance with the ocean breeze. The stickiness on your skin and the taste of salt, along with the scent of briny sea life lets you physically experience the marine surroundings. There is no denying its magnificence and artistic influence. It teaches beauty and encourages you to take it with you. Seduction at its best.
Locals will surely correct you (as they did with me) if you call this path "the boardwalk". Nope, it's the Strand, unique and coveted by the people who live here. You'll often find painters and photographers perched along the many sea walls, benches or grassy patches, capturing the evasive colors of the day.
Did I mention the name of the "street" is the "Strand"? If you have this as your address…you know you've "made it".
Nature hugs this concrete river. There is no stopping it. Here, the rain water carves a short-cut walking path for antsy beach goers longing to spend some time on the sand.
The influence of the color and form of sand, earth, and curling waves is evidenced by this fantastic weather-warn entryway. Inspiration in nature is everywhere…it's just a matter of seeing it.
Where do you find design inspiration where you live?
All photography by Skaie Knox, HomeJelly