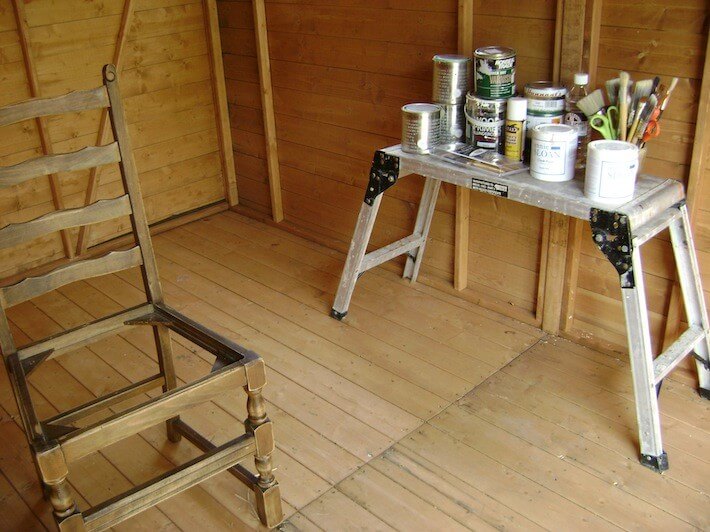 Have you ever wondered if going through all of the time and trouble of sanding and priming is worth it? I have, and since I'm busy gearing up for an epic refurbishing project I decided now was the time to find out.
For my research I used:
• Kilz Latex 2 Primer

• Behr Sweet Rhapsody
• Behr Antique Tin
• Rust-oleum Metallic Aluminum Spray paint

• 120 Grit Sandpaper

• Blue Painters Tape

• 1" Synthetic Paintbrush
Five mediums, common furniture surfaces, were chosen to be tested:
-Dark Laminate
-Light Laminate
-Stained Wood
-Raw Wood
-Painted Wood
Each medium was:
1. Divided in half – top half was sanded, bottom half was left un-sanded.
2. Cleaned – using TSP and then allowed to dry completely.
3. Split – left side no primer, right side primer.
4. Painted – following each products' individual directions and drying times.
Sanded & Primer Comparison Key
The experts were right, sanding is necessary. Even if only to prep the surface for better paint adhesion. Kilz says to rough up the surface for best results and to sand before and between coats of paint. If you still need convincing, see the tested medium, Light Laminate's results below and the paint that peeled away from the lightest scratch (it was unsanded and unprimed).
Light Laminate Comparison Chart
All of the results make an excellent argument for primer. This is especially true of the laminate mediums – see again the scratches bottom, 3rd from the left on chart above and the varying finishes of the dark cherry laminate below. Note: if you are using a spray paint topcoat you should probably use a spray paint primer.
Dark Cherry Laminate Comparison Key
Below is a key that illustrate how different mediums look when painted with different paint products, their colors, and finishes (matte vs. spray paint). Note: Because sanding was strongly recommended, the charts below also include only SANDED comparisons.
Primer Comparison Key
The raw wood medium below showed the most drastic color difference due to primer.
Raw Wood Comparison Chart
Next, we look at how primer smoothed the grainy appearance of the stained wood.
Stained Wood Comparison Chart
However, don't rely on primer alone to completely cover-up bumps or embellishments, although it did minimize their appearance. The surfaces below required more DIY finessing like spot sanding and/or wood filler. (the blue "Sweet Rhapsody" was omitted in the chart below).
Painted Wood Comparison Chart
Finally, sanding and primer are most advantageous when you are painting multiple pieces or a when painting a single piece that has multiple mediums (i.e. like a painted wood and laminate-backed bookcase). It gives you a clean "white" canvas which ensures that all of your applications match.
Would you believe that this is the same paint, applied without primer, on five different surfaces?
Same Paint Color Without Primer Comparison Chart
Would you believe that this is the same spray paint on the same piece of stained wood with and without sanding and primer?
Single Stained Wood With & Without Sanding & Primer Comparison Chart
The results are in: sanding & primer are worth the time and trouble. They give you a good base for your topcoat to adhere to and a clean palette for your color to show true. Try it for yourself. I purchased scrap lumber to use as test surfaces at the Riverside ReStore. I purchased the Kilz primer, Rust-oleum metallic finish in aluminum spray paint, and Behr paint samples in Sweet Rhapsody and Antique Tin at our local Home Depot.
Have your own wisdom to share? Leave a comment below. Let's help each other save time and effort!
Research project and all photos (except otherwise noted) submitted by our friends at:
For more information please email our repurpose team at [email protected]