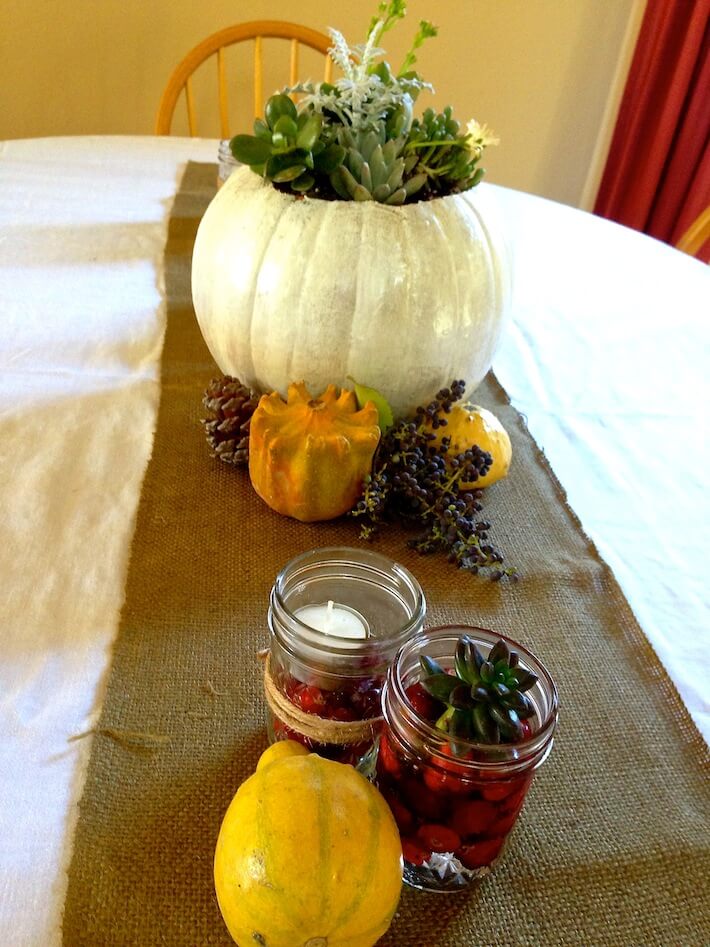 I'm definitely one of those people who appreciate duel purpose ideas, especially during this time of year when my wallet is getting more exercise than me. I also appreciate "happy accidents", and I had a few while dressing our Thanksgiving table this year.
I quickly realized that what I was using as fall decorations could easily translate to winter. Seasonal flowers, plants and fruits are not only cost-effective, they have a natural "pulling together" feel and a harmony with holiday colors and textures. Here are a few tips to help your table go from fall to winter:
1. Think local: use floral bouquets from your local market, as they typically bunch flowers and "fluff" with holiday colors in mind. Note: you can often split these bouquets into several different vessels, saving money and spreading the blossom love.
2. Think outside the vase: going from fall to winter fruits and veggies is easy-from pumpkins to pomegranates, butternut squash to red and green peppers, they're perfect vessels for flowers and candles.
3. Think double-duty: it's perfectly okay to reuse decoration ideas like cranberries (great to use as a natural flower frog keeping blooms, succulents and candles in place,), pine cones, burlap, mason jars and wooden crates. Note: the key is to pair these items with colors and accessories that show off the holiday you are celebrating.
4. Think outside the candle stick: by simply hollowing out your favorite fruits and veggies, you've got a creative and inexpensive way to light up your table. Swap out the more autumnal fruits and veggies like mini pumpkins and gourds with apples, lemons, and artichokes. Mini lanterns are great accessories that add unique candle light as well.
5. Think outside the bouquet: succulents are the new roses of centerpieces because they are both transplatable and oh, so easy to care for. They also add a sophistication and elegance to a holiday tablescape.
What double-duty decorations do you use?
All photography by Skaie Knox, HomeJelly