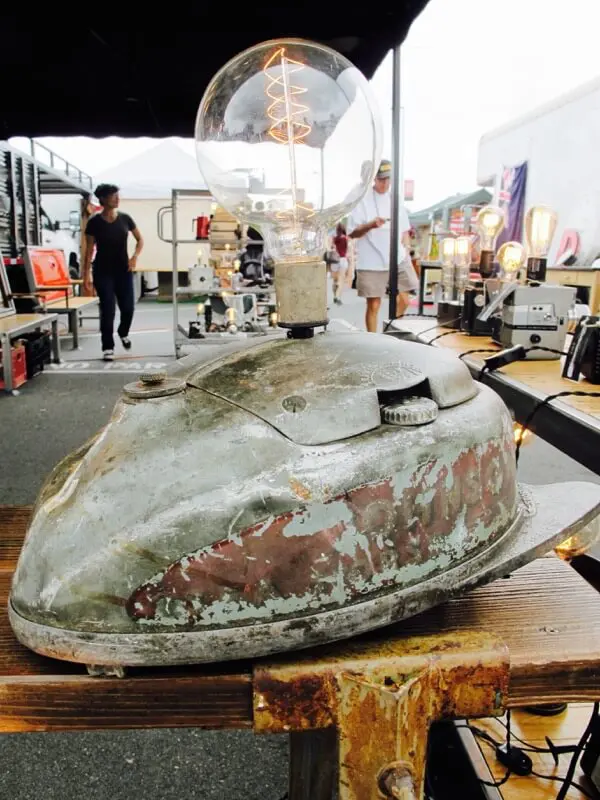 This ain't your grandma's flea market.
Nope. More and more, I'm finding talented craftspeople are taking advantage of local flea markets as their pop-up shops to showcase their latest creations.
Good for them.
Not so great for us bargain hunters.
Still, it's pretty exciting to come across such unique finds like these steampunk styled lights that are really reimagined sculptures with an edge…a flea market chic kinda edge.
See also: Get Steampunk'd
They're pricey, but, with the kind of intricate detailing and clever use of repurposed items like industrial light boxes, gauges, and knobs, vintage cameras, coffee pots, toys and even an old boot, these artists deserve to be paid for their creative vision.
Yep…they've pretty much turned the flea market on its head.
Sorry, Grandma Maude…I know the world's gone plum crazy!
The top three lights in this post were designed and made by the shop, One Day at a Time. To purchase or order, visit their website at odatat.com.
The shop, Lockjaw Garage definitely had some steampunk swagger…their lights had personality and definite whimsy. Check out their shop at lockjawgarage.com.
All photography by Skaie Knox, HomeJelly