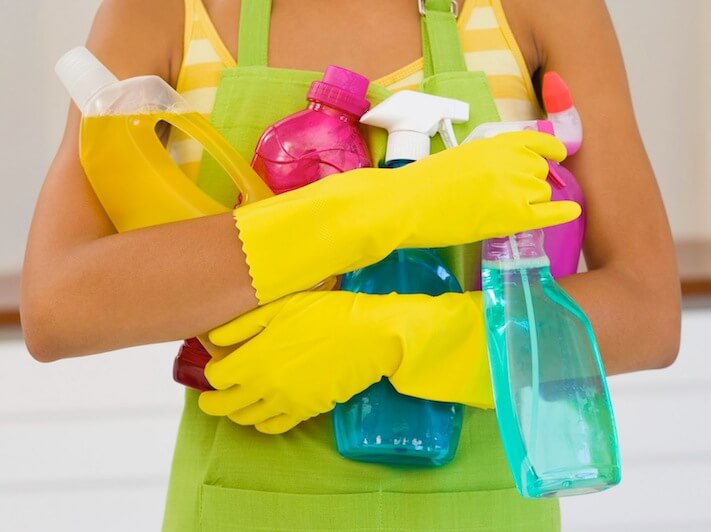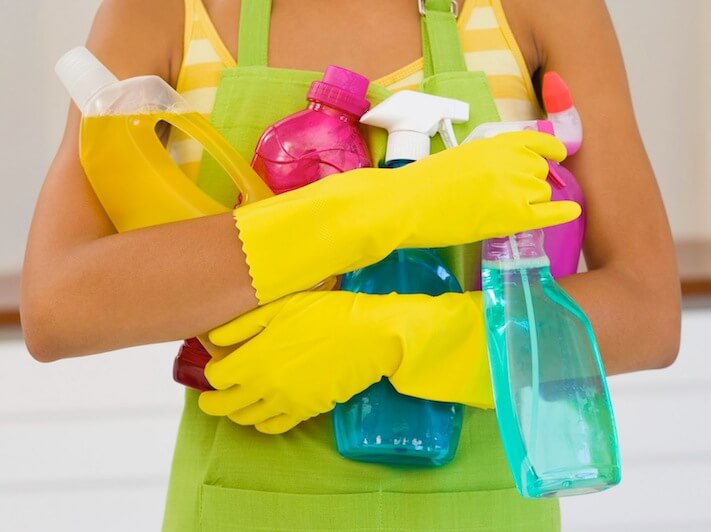 Raise your hand if you love to clean. Okay, so, for the majority of us who are normal, we're just gonna have to suck it up and accept the fact that it's one of life's annoying necessities. So, when I was asked to participate in HomeAdvisor's "ProjectHome" program, to experience their fabulous home service professionals site firsthand…I jumped at the chance!
I decided to choose #1 in their "Top 10 Spring Maintenance Tasks": maid service…whoohoo! With all the living room makeover DIYing and blogging and such, the fine detailing of cleaning our home has been a bit lacking. We're also going to be installing new kitchen flooring next week (oh, I can't wait!) and we're scheduled to host one of a four day family reunion this summer. Our bungalow is in definite need of professional help.
After deciding which service I was in need of, here's what I did:
Step #1: I simply jumped onto HomeAdvisor.com.
Step #2: I was very curious as to how much maid service was in Manhattan Beach, so I toggled over "Cost Guide" located in the black bar at the top of the page, then clicked on "cleaning services".
Step #3: Next I selected "Hire a Maid Service" to view the average costs in my area. Here's what the page looked like:
Note: I learned some valuable questions to ask and things to consider when hiring a maid service (which I've never done before!). Things like:
What cleaning products do they use? Are they environmentally friendly? Do they provide cleaning products at all?
Does my home have special needs (valuable antiques, specific furniture that should or shouldn't be cleaned with particular products or methods, pets not allowed in certain rooms, shedding, etc.)
Is my home accessible? High ceilings or shelving?
What is the distance the professionals will have to travel? Will there be an additional fee?
Step #4: Okay, so after plugging in my zip code I knew I was looking at a potential cost of $162-$202. Once I had this initial information, I new I was ready to find a trusted pro, so I clicked this button:
space
Step #5:
This took me to "Get Matched to Top-Rated Interior Home Cleaning Services" – I happily clicked "Maid Service".
Step #6: The form was short and simple. HomeAdvisor will match you with up to three service professionals; I got matched with two after submitting my request.
That's it! Six easy steps! Oh, and within 60 seconds my phone rang! The first service pro I spoke to was very nice, but I had a very difficult time understanding her English. I speak Spanish, but really wanted her to communicate to me in English. After struggling to understand me when giving her my address, I decided to tell her in Spanish. Unfortunately, she still had a hard time understanding. She wanted to schedule an appointment to come over to my house to give me an on-site quote. Note: I wasn't totally thrilled with this, so I told her I'd contact her via email if I was interested.
I then spoke with the second service pro, and she communicated in perfect English and was very pleasant. Their company was also "Green Certified", using mostly green cleaning products. She also gave me a quote over the phone. Guess who I hired?
Stay tuned for Part 2 of HomeAdvisor's "ProjectHome" program, where I'll tell you how things went, as well as a "thumbs up" or "thumbs down" regarding my very first maid service ever! I'm confident all will go well. Raise your hand if you'd like three free months of maid service? Yes? Stay tuned for Monday's post for details!
This is a sponsored post brought to you by:
The opinions are completely my own based on my experience.
Top photo source: mariettamaid.com