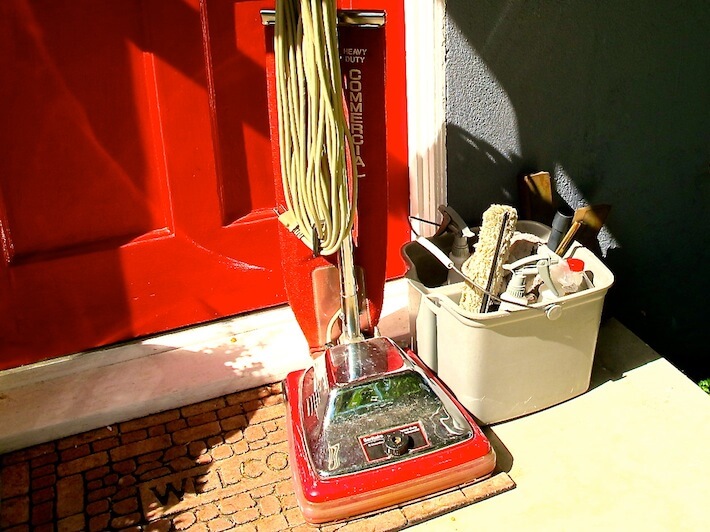 I could have set my watch by the spot-on-time arrival of my cleaning crew, YB Cleaning Services. Check! As a participant in HomeAdvisor's "ProjectHome" program, my job as blogger ambassador was to experience this home service professionals website and all it has to offer. My online user experience was not only easy, it also offered me some great advice on what to expect when hiring a cleaning professional (read more about it, here). After using the cost guide and deciding between the two professional services' bids, I scheduled a "deep spring cleaning" for this past Thursday, May 2nd and couldn't wait for someone else to dust and mop my needing-to-be scrubbed bungalow.
Upon entering the door, Eddie introduced himself and his crew. They were clean, neatly dressed and friendly. Check! Eddie immediately put me at ease with his pleasant demeanor and professionalism (after all…I've never had anyone clean my home…I was excited, but a little apprehensive, ya know?). He had a clipboard with his check list, mine was in my head. He asked what areas I needed the most attention paid to, and I told him our floors (we're installing new kitchen flooring next week), the bathroom and the windows. I underlined that the sills in this creaky 1940s home were quite grimy, then he reassured me that his was a similar-type house. Nice. I knew we were on the same page. Check!
Here are just a few of the chores they completed:
It was so wonderful to see them detailing areas I had kind of forgotten needed cleaning, such as, dusting curtains, vacuuming waaaay under the bed, sponging off the bathroom blinds, and wiping the dreaded window panes (Sorry Mr. and Mrs. Spider…you've been asked to vacate the premises!). Check! One special note, they usually have a routine where they start in the master bedroom, but, knowing I needed to continue working, they (with me asking them) started in my writing room so that I could get back to writing for you people. Attention to homeowner's needs, noted and checked!
Three hours and twenty-five minutes later, they were done. Yes, it was a deeeep cleaning. It's amazing how much grime a 900 square foot home can hold. Eddie asked if I would do a walk-through and if there was anything they missed. Are you kidding? I never knew how white our kitchen floor was or how shiny glass could be until I saw these "afters":
Hmm…for a second, I thought we might not need new flooring after all! However, as that second passed, I was very pleased that our kitchen is now prepped and ready for the new laminate slate tiles to be installed. This one deserves a bold check! Note:the "before" floors were the result of a bamboo mat that had a backing that left dark brown marks.
Oh, and the shower door…don't you just wish a cleaning like this could last a month?
My monkey "Rocky" was so happy to see his own reflection in my desk. I love a clean work space!

All in all, with most every box ticked on my checklist I'd have to give YB Cleaning a solid "A". If you'd like to find a cleaning service in your area, just click this button:
HomeAdvisor's Spring Cleaning Contest!
3 Months of FREE Maid Service!
This contest is now closed.
How to Enter: Use HomeAdvisor's Cost Guide tool to find out the average cost of a maid service in your city. Submit that cost on our entry form found on HomeAdvisor's Facebook page May 6th-16th, 2013 to be eligible to win 3 months of free maid service.
This is a sponsored post brought to you by:
All photography by Skaie Knox, HomeJelly
This is a sponsored post. The opinions are completely my own based on my experience.