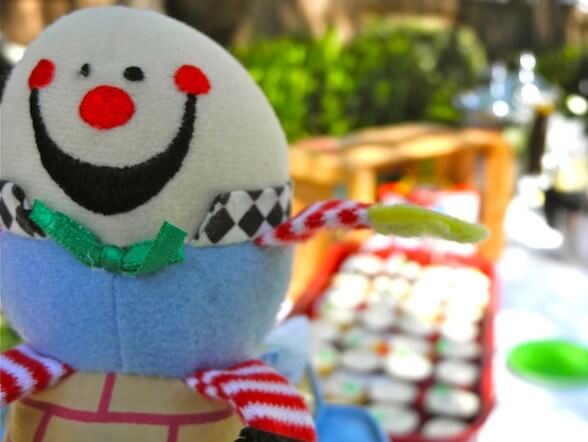 Last weekend, missing the thunder and lightning storm by hours, three gal pals and I hosted a no fuss baby shower for our dear friend Andrea. There were no silly games like "Delectably Dirty Diapers" (candy bars placed inside diapers…who thinks up these things anyway?!?), no "ice cube babies", not even a gift opening (feww!). What was left? A warm, sunny day, gathered friends and family, delectable food and drink, and a backyard setting that was both charming and delightful. Additionally, the "eclectic" array of metal card tables and chairs, tablecloths, and a collection of vintage toys, metal buckets, and glass jars and bottles made this baby-to-be bash simply sweet.
A portion of the party's vintage charm came from "oldies but goodies" toys like this cool Radio Flyer wagon, perfect as a cupcake display. Tip: be sure to tape the wheels so it doesn't roll off the table!
Andrea will be using cloth diapers, so diaper pins were fun and functional cupcake toppers. Personalized flags like "Welcome Lars!", "Stork Delivery", and "Bundle of Joy!" were easily printed out at home and taped to toothpicks.
I borrowed vintage toys from my cousin to display in these old wooden boxes. They were not only entertaining to look at, several guests had fun reminiscing and even played with a few of them. Interactive decorations are unexpected and memorable.
The love is in the details and these cute rubber duckies floating in a vintage basin sure made a splash. The bonus: these are also safety bath duckies by Munchkin; if your baby's bath water is too hot, a colored sensor underneath the duck's belly tells you so.
Practical and attractive cutting boards display food with rustic charm. Here, they worked great for our tarts, quiches, and bread.
There's nothing like sipping down mimosas in a Ball quilted crystal jelly jar. I found these at our local mom 'n pop's Kurt Hardware Store in Redondo Beach (my new favorite brick 'n mortar!) for just $12 a dozen. The champers chilled in an ice-filled metal bucket (circa 1940s)…can we say "Cheers!"?
A collection of vintage bottles used as flower vases adds a wabi-sabi touch to the decor. Note: with just one or two sprigs per bottle, our floral budget was quite reasonable.
A clothesline is a darling way to decoratively display new baby clothes, artwork, photos, and even lights. Baby Lars will be well-dressed after this shin-dig.
Andrea's genius was actualized by her request to bypass the dreaded gift opening of diaper genies, breast pumps, and car seats. Instead, guests brought their presents unwrapped so that at any time during the party, anyone could meander over to the present pile to have a look-see.
We were thrilled that our guest of honor was very pleased. "I knew it was a good party when I received several texts stating that 'This was the best baby shower ever!'" Congratulations, Andrea and husband, Cliff! See you soon, Lars!
Special thanks to co-hostesses and party decorators Kristin Moro, Alison Lakoff, & Laurie Ganz.
Do you have any special party tips? Send them to us at [email protected]
Photographed by Skaie Knox, HomeJelly