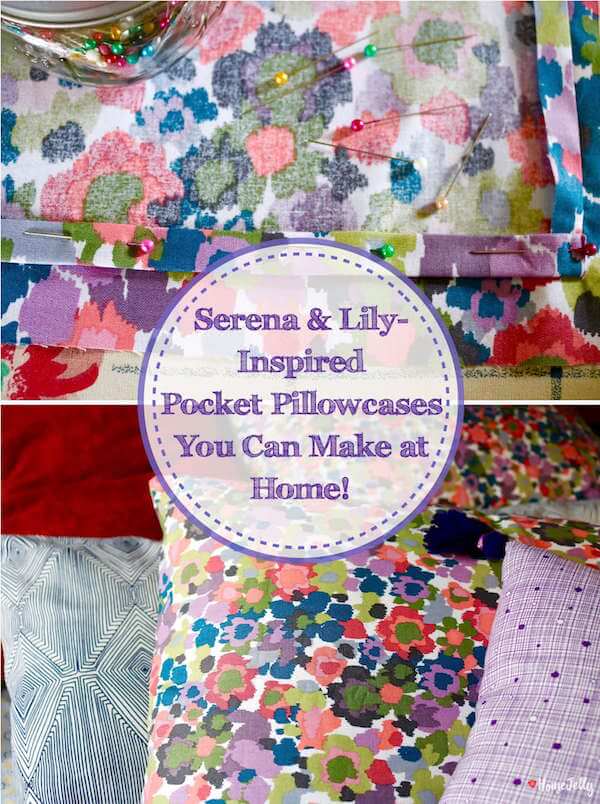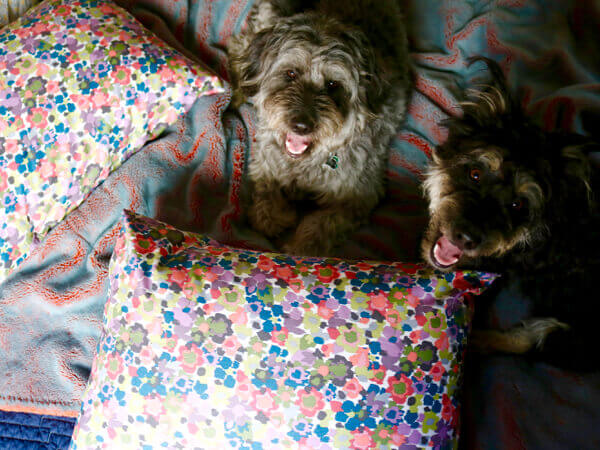 No. Today's project isn't a how-to hack…
It's inspired!
If you've ever had the pleasure of purchasing (or receiving as a Christmas/birthday gift) a set of Serena & Lily sheets…you'll know what I mean when I say they're probably the sweetest linens you'll every sleep between!
I just absolutely LOVE their pocket pillowcases – where your entire pillow is nestled and enclosed inside a fluffy-soft, cotton envelope. No more waking up at 3:25am with a drool-stained pillow slipped half-way out of its covering. Nope! This style of pillowcase also lends itself to a designer-finished look to add colorful flair to your bedding ensamble.
Now, as you can probably tell, like many of you, I love a beautiful bed. But, like many of you, I'm on a budget. Put those two together and we're often left with less than chocolate-dipped-in-peanut-butter results. In other words…it's EXpensive to dress a bed!
Why? A typical ad slogan from Serena & Lily: "Layers! It's all about layering!"
Yeah…and layering means outta my current budget.
Rats.
Needless to say, I still want what I want. So, to coin Plato's phrase, "Decor necessity is the mother of crafty invention," which presents itself here, in today's post: Serena & Lily-inspired pocket pillowcases you can make yourself!
Halleluja!!!
There are loads of throw pillow how-tos, which is wonderful, but, how about our regular standard or queen pillows? Yes! There's a whole lotta material here that can add a whole lotta color to your bed!
Hop on over to your local fabric store or visit any one of these online shops: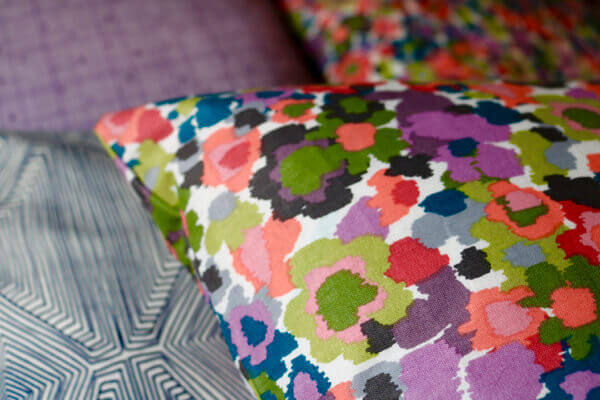 • Joann's Fabrics – What I love? Coupons! You should NEVER pay full price at this place! They're the Bed Bath & Beyond of fabric stores!
• Spoonflower –What I love? They have a huge selection of super-cool and interesting textiles – AND, you can design and sell your own, too!
• Fabricut – What I love? Quality, quality, quality textiles.
• FabricWorm – What I love? The many unique designs.
• ChitChat Fabrics – What I love? The variation of patterns and one-of-a-kind designs.
• Fabric.com –What I love? Oh, so many colors and designs!
Alright. Enough chit-chat…on to the how-to!
Supplies:
• fabric – soft cotton is BEST and easiest to work with.
• thread
• fabric scissors (I love my Fiskars RazorEdge Sewing Scissors! Cuts like buttah!)
• pins (I love the ones with the little balls at the end…so comfy to use!)
• needle (for basting)
• yardstick, straight edge or tape
• sewing machine (I adore my new Singer Stylist, but we just started dating so I'll keep you posted.)
• standard pillow
Directions:
Note: always press your fabric first for easy and accurate measuring.
1.Turn fabric inside-out. Measure, pin, then cut folded fabric 34" long x 20″ wide.
2. Sew along ONE short edge and the long edge. Note: be sure to leave a 1" opening on long edge.
3. Clip edges for crisp corners, then press open your seams to create a finished look.
4. Cut 1" down on the opposite, folded edge to open it up to create your hem. Then on SIDE A, fold-over each 1/2" hem, for a doubled-over hem, press, pin, baste, then sew. (see pdf pattern diagram for more info.)
4. On SIDE B, fold-over 1" hem, press, pin, baste.
5. Fold over opening to create a 6" overlap, then sew down 1″ seam on SIDE B.
6. To FINISH, sew right over the overlap side seam to secure pocket.
7. Turn right-side out, then stuff pillow inside. Finally, tuck pillow top into pillow overlap! DONE!
Free Download!
Download FREE Pocket Pillowcase Pattern PDF…then say that 5 times fast!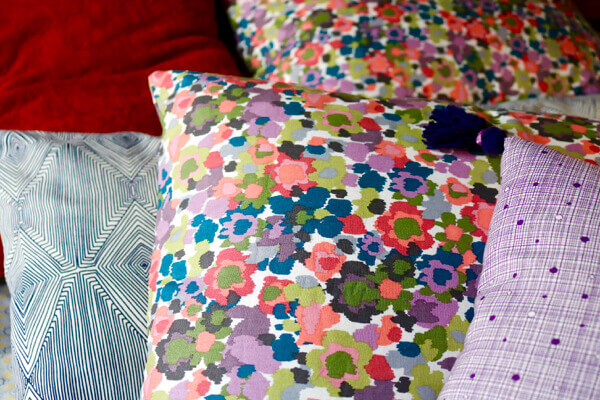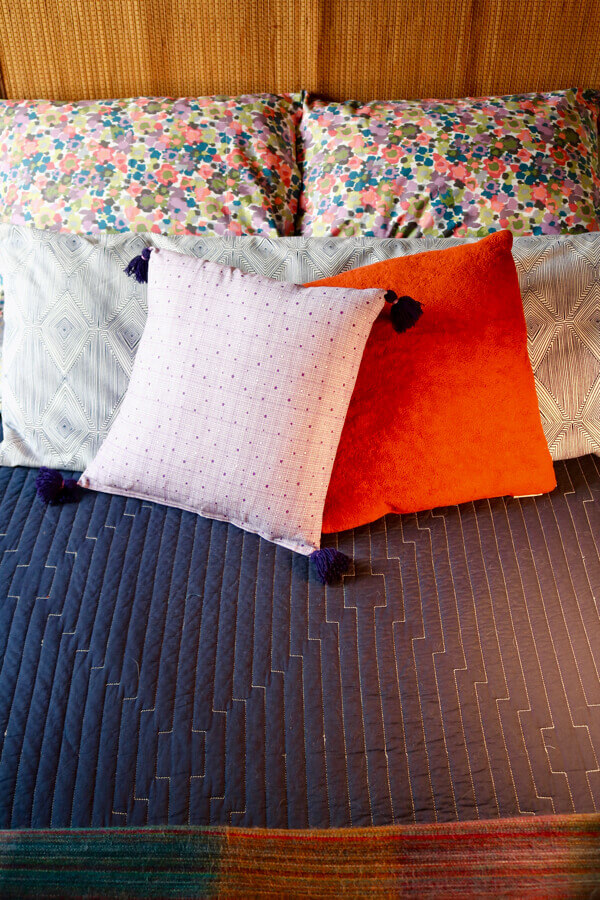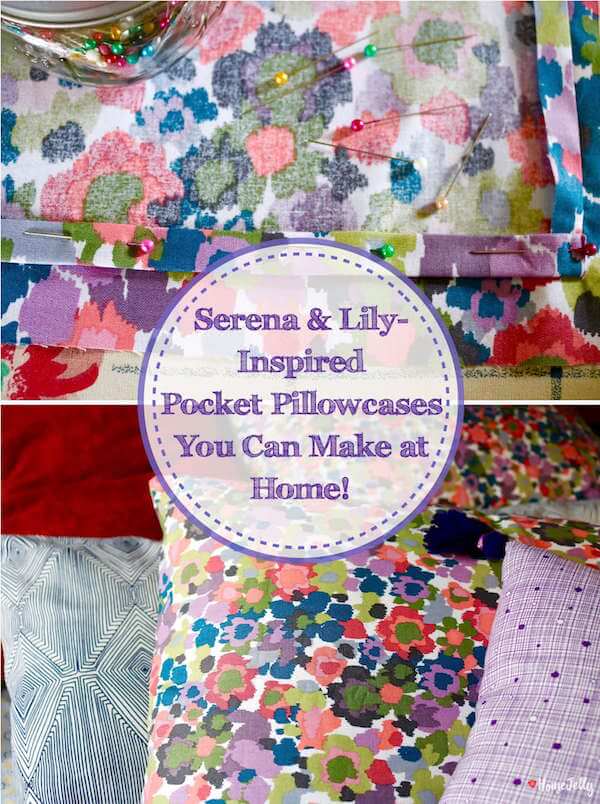 All photography by Skaie Knox, HomeJelly