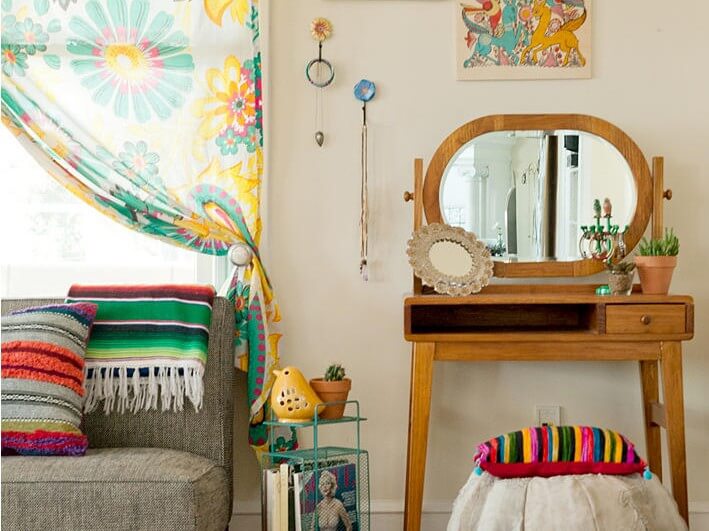 Ohhh…yes. This room of the day makes me so happy. If my nog'n is screwed on correctly, I believe I count eight different patterns (including the wall art) intermingled in friendly decor harmony. Who knew those floor rugs would work together…their coloring is barely and remotely related. The answer? It's all about the big picture. In true "boho" fashion, it's all about how elements as a whole add up to something that effortlessly works.
Note the heather grey of the sofa and the honey brown wood flooring and vintage dressing table. Then see how, in each pattern, there is either one of these two grounding hues represented or an accessory's color (i.e. red, yellow, green, pink, aqua, etc.) that is repeated in another piece. Here's an example: the red stripes of the left floor rug is echoed in the red trim of the embroidered and sofa throw pillows. These two accessories also contain, or are place upon another accessory that is grey which ties in with the sofa. You try it now…how do you see another connection of patterns on patterns in this space?
Get this Vintage Bohemian space for your home:
1920's dressing table. Price: $150, available at ebay.com
Kardiel Florence Knoll Style Loveseat. Price: $895, click here
to purchase one!
Mini storage rack. Price: $39, available at urbanoutfitters.com
Embroidered Ikat stripe pillow. Price: $34, available at urbanoutfitters.com
Green serape blanket. Price: $21.49, click here
if you wanna buy one!