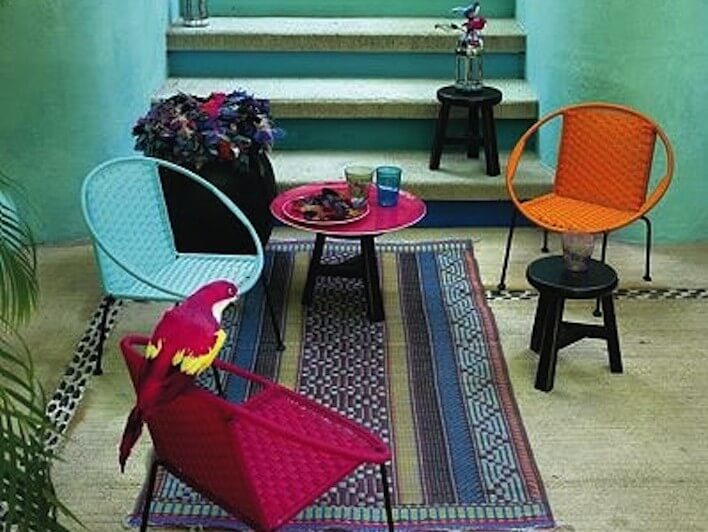 When it comes to our home sweet homes, there is often a space many of us forget. It's that great potential, yet often overlooked point of entry that could very well be the welcoming hug we wish to provide. Our room of the day was thoughtfully staged to trick the eye into thinking this space is really a hangout when, in fact, it's actually the landing at the bottom of a staircase…who knew! This same affect can also be created in a smaller space by simply placing a stool or two by the front door. Well placed lanterns and a small floor rug can nicely anchor this new "room" and also designate it as a more specific place to stop for a chat or coffee. Try it yourself! You might be surprised what unused square footage you'll be able to reclaim and enjoy.
Get this room in your home!
We found some fabulous finds on amazon that was inspired by our room of the day!
Innit Designs Baby Acapulco Chair, Pink Weave on White Frame, price: $179.26 each. Click on this link

to add some fun color to your hangout!
Moroccan style candle lantern
, price: $3.99-$9.35 each (wha!?!), hangout or not, these lanterns are fab! To purchase go here
!
Zourhra hand made rug
, price: $250. Have a click
and see if there is a color and style right for your nook.
Short stool
, price: $24.82-$34.29. You can either paint or stain this simple stool to fit the vibe and color scheme of your new area. To buy one or two of these cuties, click this!