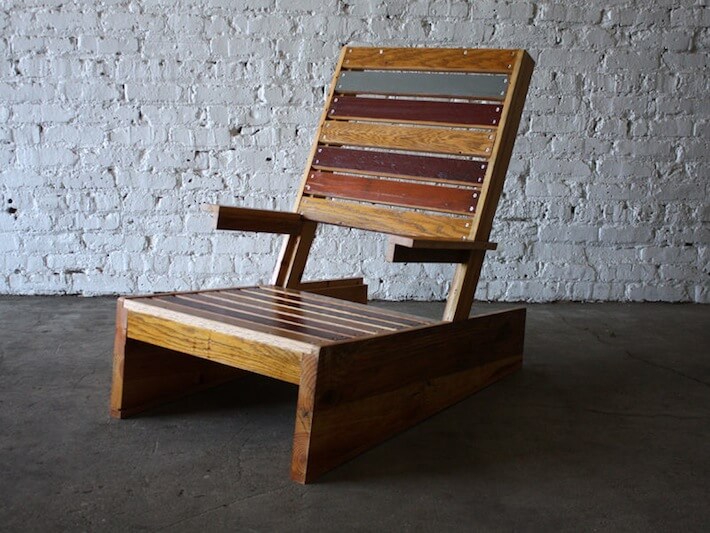 Although California's unusual Indian summer has left me envious of my Facebook friends posting photos of their outdoor decks and yards covered in four inches of freshly fallen snow (you know who you are…Lisa & Mike!), I've decided to embrace this warm weather. So, to celebrate our sun soaked October days and balmy evenings, I thought I'd post this DIY Adirondack chair project that makes beautiful use of wood scraps many of us have lying around our homes (in our case, piled up like kindling between the garage and side fence!). Thanks to our friends at Instructables, and with a strong stomach for detailing and measuring, this project could have you sitting pretty with a tropical drink in hand for the rest of this stretched out estival season. Status update: "Let it snow! Let it snow! Not!"
Scrap Adirondack chair…here's what you'll need:
Materials:
1 8′ 2″ x 12″ (per chair)
1 8′ 2″ x 4″
Approx. 40 linear feet of assorted 3/4″ material
8 2″ x 3/8″ hex-head bolts or a handful of galvanized 1-1/2″ screws
Galvanized (or, better, stainless steel) 1″ and 2″ screws
Wood glue
Outdoor-grade finish of your choice
Tools:
Chop saw
Table saw
Circular saw
Orbital sander
Drill/driver
Clamps
Chisel
Hand plane
Tape measure
Square
Pencil
Paintbrush
Rags
Visit Instructables for the full how-to.
How 'bout it HomeJellies? Would you attempt this Intermediate level DIY project?
Photos and how-to, Instructables.com