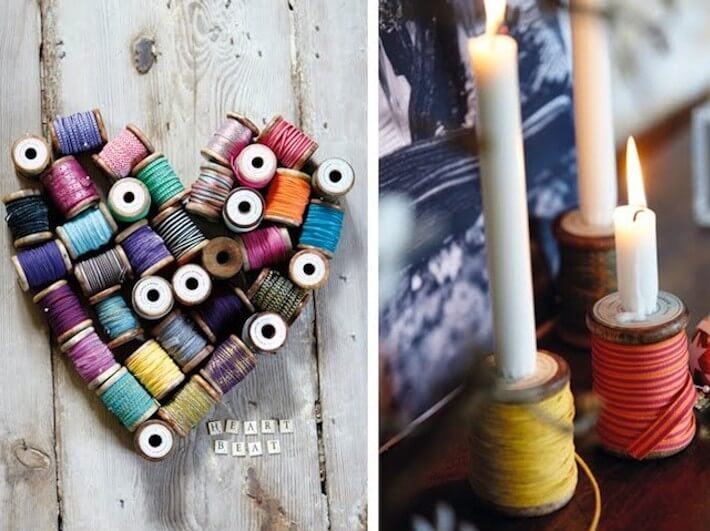 On a recent trip to the Long Beach Antique Market, I discovered just how fabulous it is to get out of the internet and into the world of three dimensional people. My mission was to find a Danish mid-century mod, round wooden table with leaves (fewww!), but along the way I discovered these vintage knick-knacks, if you will, that were diamonds in the DIY rough. I made sure to snap off these photos as I knew there was a repurposing story to tell. Sure enough! Read on to learn how found flea market bits and pieces can find a new purpose and home in your home.
Flea Market find = Vintage wooden pulley.
Repurposing idea = Pendant light decorative detailing
This rope and pulley accent adds loads of charm and character, not to mention form and function. Easily interchangeable from that old chain holder and quite inexpensive to do…I'm hooked for sure!
Flea Market find = Vintage wooden spools
Repurposing Ideas = Wall art and candle holders
Whether you snag these spools of thread from a flea market, garage sale, or your mom's junk drawer, they certainly have all kinds of possibilities for new life in your space. They infuse just that old world touch and can be color coordinated to fit your decor. Sew fantastic!
Flea Market find = Vintage cow tags
Repurposing Idea = Cow tag rustic decor detailing
This one mooooves me, as it hits close to home. My family's dairy farm boasted the best Guernseys in Minnesota, and they were lovingly tagged so that no one mistook them for anyone's other than ours. These vintage cow tags can also grace our tables this Thanksgiving and pay homage to the beautiful creatures who have provided so many of us with pails of milk, rounds of cheese, and cartons of yogurt.
Flea Market find = Vintage drawer pulls
Repurposing Idea = Drawer pull hooks
Here is a way to pull a DIY double-duty feat by installing these hooks that are function and stylish. Mount these decorative drawer pulls for easy-to-find keys, glasses, scarves, etc., or leave them empty, as is.
Flea Market find = Out of commission license plates
Repurposing Idea = License plate book ends
Ya gotta love ingenuity, especially when it's inspired by a particular need. After installing a new shelf, Clair, a creative DIYer from The Cozy Condo, had novels tumbling over with no support. No worries! She simply bent an out of commission plate she had laying around into a perfectly suitable book end. Plates from every state (and Canada) are easily found and can be a fun and inexpensive feature on your shelves, too. Honk if you like this idea!
How 'bout it HomeJellies?!? What repurposing ideas do you have? Leave a comment below and share the DIY love!
Flea market find photography by Skaie Knox, HomeJelly