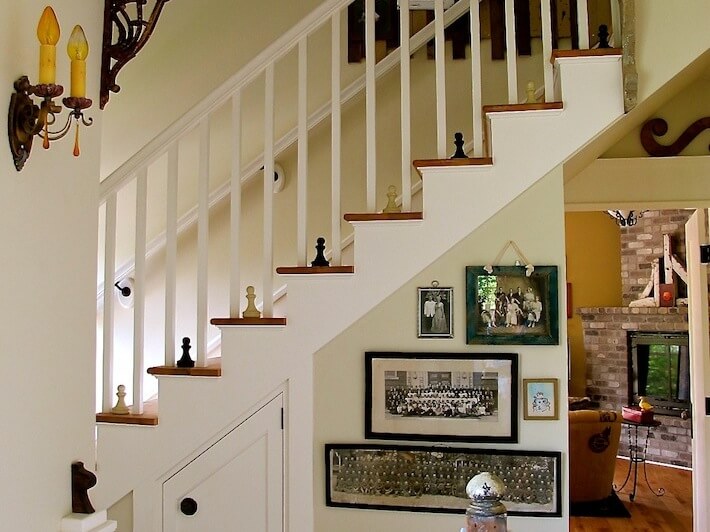 The moment we drove up to Shannon Quimby's home, my husband, Matt exclaimed, "Whoa! Is this where we're staying?" "Yep. Q's a genius."
Our friend, Shannon Quimby, who is a reusing, recycling, restyling, and renewing designer/decorator extraordinaire, was kind enough to invite us to stay the night on the first leg of our Oregon to NoCal road trip this summer. Needless to say, we were blown away by her REX Project (Re-use Everything eXperiment), and, upon entering, we knew we were in for a real decor treat.
Join me now, in part 2 of our home tour of Q's amazing recycling of a dilapidated house that resulted in the rebuilding of a beautiful and character-filled home (see Part 1: Gorgeous Garden Decorated with Salvaged Materials). I'm sure, along with us, you will be inspired to rethink your trash when you see what treasures they can be.
Let's start in the living and dining rooms…
I just love how the wires and caps were hidden underneath this bi-fold door. It's so rustic and adds texture that is familiar, yet surprising.
Now, moving into the kitchen…
What's so great these days, is that many of us reuse and recycle (give yourselves a pat on the back, now!). But when I saw that Shannon had recycled these old and seemingly non-sexy electrical insulators into these very whimsical cabinet knobs…I, again, had to tip my imaginary hat.
Follow me down the hallway and to the powder room…
Here's a peek at the second floor laundry room…
And some decor bits and bobs…
Shannon had the foresight to build in a peek-a-boo door, so when she gives tours of this radically recycled home, she can show visitors how old and new timber can coexist. I learned that you can recycle and reuse old wood for structural building that is not load-barring. So interesting! Note: you should always check with the building codes in your area to verify the use of recycled lumber.
The master bathroom…
Thanks for stopping by!
If you'd like to learn more about the REX Project and view more photos of this fabulous home, visit shannonquimby.com.
All photography by Skaie Knox, HomeJelly