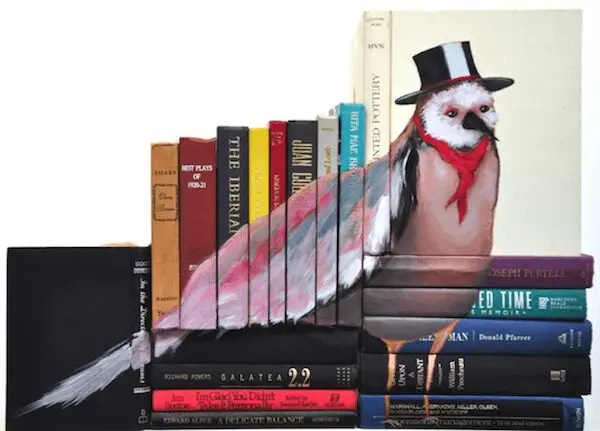 A banjo playing buffalo, a giraffe jamm'n on the ukelele while riding a colorful unicycle, and an elephant donning a kicky top hat turned me into an instant fan. Artist and Los Angeles native, Mike Stilkey, is the mastermind behind his fabulously creative and quirky book spine art that has decor storytelling gold written all over it…literally (and I mean that on so many levels).
The tome trend in home decorating has lead to such interesting designs such as brick-bookends, the bibliochaisechair, and even book bookshelves (amongst others). Stilkey's captivating work reads on a whole other level of design and imagination, being compared to artists Edward Gorey and Egon Schiele and is evocative of Weimar-era German expressionism. To me, his paintings resemble an amalgamation of Tim Burton and René Magritte-a combination as tasty as peanut butter and chocolate.
In addition to his actual images, the medium upon which he paints is what stood out amongst the rabble of online artists. The spines, covers, and even pages of vintage books are transformed into masterful works of art. Stilkey's painting sculptures, or, if I may coin, paintures, add a three-dimensional quality to his already whimsical and, often times, melancholy subject matter. Hey, when you've got animals strumming and cycling at the same time, I'm already sold.
If you'd like to see more or learn where you can view Mike's work live, visit him at mikestilkey.com. All photos courtesy of Mike Stilkey…thanks Mike!