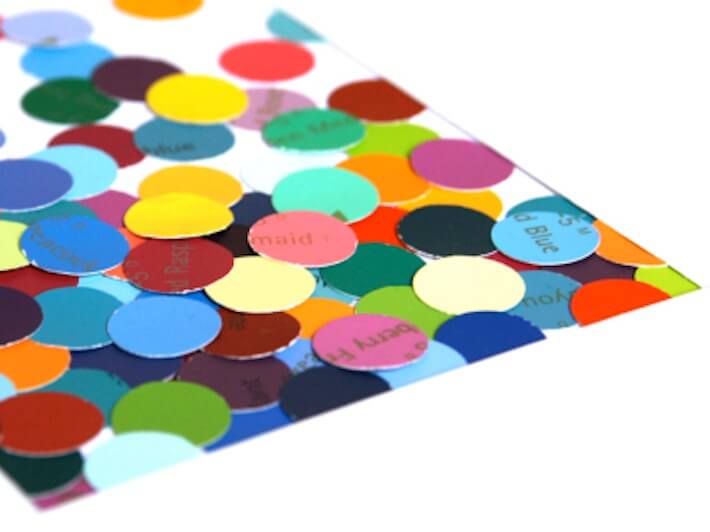 Stuff. Paint Chips.
Paint chip lampshade: With this type of project, there are endless combinations of colors you can choose from to light up your space. For the full how-to, visit bhg.com.
Paint chip circle art: Who knew back in the 3rd grade a hole punch could produce such interesting art? To make one yourself, visit Allison's clever blog for how-to.
Paint chip wall paper: You'd think this would be complicated and difficult to create…but, it's not! Really! For basic instructions, jump on over to houzz.com.
Paint chip table runner: Okay, so this isn't actually made out of paint chips, but, these faux color flakes turned fabric feature sure are quite whimsical and would make any DIYer smile. Update: these runners no longer available, but you can visit Avril's shop for more colorful pieces.
Paint chip clock: Got an old clock you'd like to transform? Here's a crafty project you can follow to the letter (or, in this case, number), or improvise as you go. To check out the step-by-steps…go to craftsbyamanda.com.
Paint chip picture frame: Here's a great reason to break out your scalloped scissors, an unused picture frame and all those paint chips you used to decide your last room's color change. Follow these easy directions on domesticallyunemployed.com.
Note: Are you paint chip pilfering? Before hopping into your car or onto your bike to the paint store, read this fantastic post by Craft Gossip about how to acquire and use paint chips ethically.