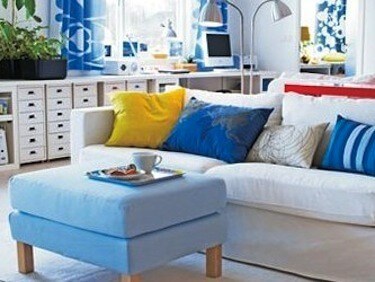 While trolling the web today, I visited our friend Karl Champley, host of Wasted Spaces, and had a look-see at an archived episode where he helps a couple of homeowners bring more light into their family room by adding a window. Supplementing his excellent advice, I discovered more ways to increase the sun's luminescence and add brightness to any space you wish. Here are five ways to do so:
1. Add a window. There's no better way to increase light, than to allow a greater entrance into your place. When purchasing a window (in a box store or on DiggersList), Karl Champley's advice is to buy "dual-pane, double-hung, low-E windows". Why? Because with these types of windows, argon gas is fed in between the double panes of glass and is therefore insulated, benefiting you in the following ways:
a.) Increased efficiency = prevents cool air or heat from escaping = lower gas/electric bills
b.) Prevents the sun from fading carpets and furniture.
2. Hang sheers. Whether you've dressed your windows with drapes, blinds, or shutters, adding sheers can be a great option when wanting the best of both worlds: privacy and light.
3. Cut/Remove heavy branches and/or bushes. It may seem like an obvious solution, to unblock the sun from our windows by a mere pruning, but, when we've lived with our foliage day in and day out, we tend to lose sight of how much light is actually obstructed.
4. Add mirrors. Tastefully hung picture mirrors can reflect light and even bring balance and a decorative flair to any room. Extra tip: the size of a mirror should be in proportion to the height and width of a wall. Think of it like you would a painting in regards to size.
5. Bring in a light wall color. When choosing a wall color, consider the location, size, and natural light of a room. Things such as fences, small rooms, small windows, trees and bushes, west or east facing rooms, etc., can block or diminish natural light. With that in mind, a light airy color can bring the perception of more light, even reflecting what light you do have.