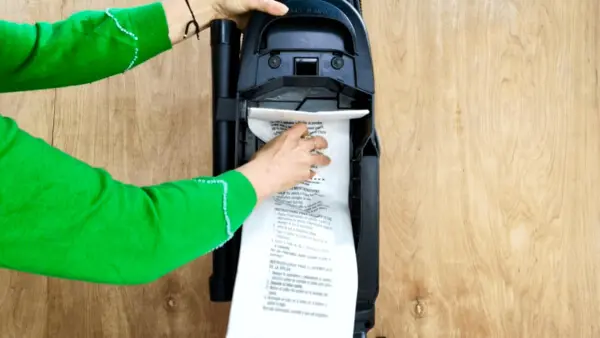 This is a sponsored post that contains affiliate links.
One of my favorite things to do when walking our dogs, Krinkles and Bear-Bear, is to literally stop and smell the roses. Our surrounding neighborhood, lovingly named, "The Tree Section", enjoys a vast array of old-growth trees (some over 100 years old), plants and lots and lots of flowers.
That being said, when they're in bloom, (whoosh!) the pollen can really fly!
Frankly, it's a small price to pay.
Keep Your Vacuum Running its Best with ONE Easy Step:
[mv_video key="zxxhql92vsuu5zy1ktd5″ sticky volume="70″ aspectRatio="16:9″ title="Keep Your Vacuum Running Its Best With One Easy Tip" thumbnail="https://mediavine-res.cloudinary.com/video/upload/zxxhql92vsuu5zy1ktd5.jpg"]
All photography and video by HomeJelly
Still, the need to dust and vacuum inside is almost a daily chore during this time of year. Thanks to today's sponsor, ARM & HAMMER™, I'm able to present today's post and video that will give you one, super simple tip to help you capture allergens (and glitter!) and keep your vacuum running its best.
One Tip: Simply replace your vacuum bag and filter!
Besides glitter and other crafting debris, it's important to vacuum up allergy-inducing particles including pet dander, grass, ragweed pollen, household fibers and dust. If it's been a while since you've changed your vacuum bag or unclogged your filter, your machine may not perform at its best. Less suction power will leave allergens, dust and pet fur behind.
It's so easy to change out ARM & HAMMER™ bags and filters. The recommended time to replace ARM & HAMMER™ vacuum bags is every 1-2 months. For filters, about 3-6 months.
Your vacuum will run at its peak performance, capturing 90% (if not more) allergens, dust and pet fur. ARM & HAMMER™ Premium Allergen Synthetic vacuum bags are designed with synthetic material that lasts up to twice as long as non-synthetic versions. They're fantastic for those of us who have trouble with allergies.
ARM & HAMMER™ HEPA filters help contain particles 75 times smaller than a human hair, including 99.97% of dust mite debris, animal dander, molds and pollen.
Whenever your vacuum seems to be losing power or if you really want to get down and dirty with dirt, dust and allergens, follow this ONE easy tip! Your home will also look cleaner and your floors will love you!
To purchase: ARM & HAMMER™ bags and filters can be purchased at any Walmart store or Walmart.com.
This post was sponsored by
We've teamed up with ARM & HAMMER™ and also received a product sample to use in this post and video. We have also included affiliate links to the supplies we used in this project. Our personal opinions

are completely our own based on our experience. we wouldn't have it any other way!