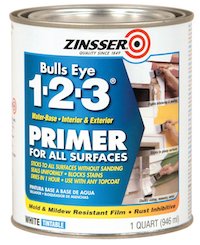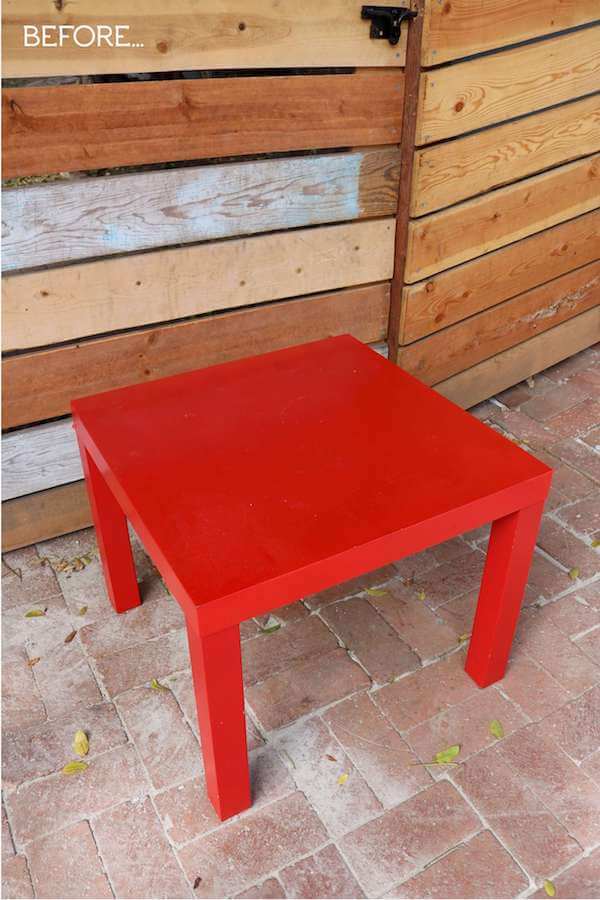 This is a sponsored post that contains affiliate links.
I've always wanted to hack an IKEA piece of furniture, and recently I had the opportunity to do so thanks to a friend. Admittedly, I was a bit nervous about experimenting on another person's item, but, I was confident the technique and tools I wanted to use, specifically, my new HomeRight Finish Max Extra paint sprayer, would turn her prefabbed table into something oh, so fab!
As to the process…
I first needed a color. My friend's request? Pale pink.
Check.
Secondly, I wanted to implement a technique that would be totally transformational. I had seen these tables made many times, but, for the life of me, I couldn't find a tutorial on how to make one.
I just loved this look, so…I went for it and, with the help of my friend, Steve Cowman, created a plan to make this come to life – with a cotton candy twist, mind you.
Check, again!
Here now, is the tutorial, along with a video which should help you create one of these tables (either hacked or original) that will totally impress you and your friends!
Scroll down for how-to instructions and video tutorial!
Supplies:
• bonding primer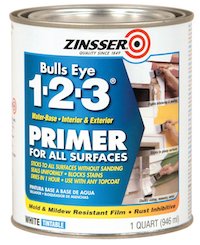 Rust-Oleum Zinsser Bulls Eye 1-2-3 White Water-Based Interior/Exterior Primer Sealer, 1-Quart
• latex paint
• P120 sand paper (fine)
• finishing nails
• 1/4″ by 1 1/2″ batten (or lattice wood)
• wood glue

• paint brush
• painter's tape
FrogTape CF 120 Painter's Tape, Multi-Surface, 36mm x 55m
• clear coat finish
Tools: (Available at Home Depot)
• paint sprayer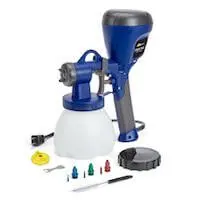 HomeRight Super Finish Max extra Fine Finish Hvlp Sprayer
• hand sander (or sanding block)
• compound miter saw OR miter box and hand saw (this second option will take quite a bit longer to do, as there are several pieces you need to cut)
Ryobi 15-Amp 10 in. Sliding Miter Saw with Laser
• brad nailer or hammer (Yep. I went nuts and bought myself this bad boy tool…)

18-Volt One+ AirStrike 18-Gauge Cordless Brad Nailer (Tool-Only)
Instructions:
1. Lightly sand table. Before applying the bonding primer, take your P120 sand paper and take the shine off the paint. This will make your life so much easier!
2. Apply one coat of bonding primer. I used my paint sprayer which left this first coat super smooth. If you don't have a sprayer, use a quality paint brush, like Wooster or Purdy. Allow to dry at least 1 – 2 hours.
3. Apply two coats of latex paint to your table. Here's where a paint sprayer really comes in handy. The finish is professional quality and sooooo fast!
4. Create a pattern or use one you like. Since this was my first time making this type of table, I followed the pattern, or a section of it, from the image above.
5. Piece your batten wood pieces together. I was pleasantly surprised at how EASY this was to create. Follow these steps:
a. Start with a corner and measure up equidistant about 1″ to 1 1/2″ on each side. Or, you can use a speed bevel to make your first mark.
b. Place your first wood piece at this point, then using your table as your marking guide, mark your cut line under your wood piece.
c. Using a 45 degree angle on your miter saw, cut just outside your cut lines. NOTE: it's better to cut your piece too long, because you can always shave off what you need to make the piece go flush against the side of the table.
d. Sand, then apply to table using wood glue. Allow to dry before nailing.
e. Continue measuring and cutting your pieces, creating whatever pattern you like. NOTE: for the odd pieces where you'll need to use a CROSS cut and an ANGLED cut, again, measure long, then shave off what you don't need. It's super easy…you can do it!
6. Nail wood pieces to your table top. Once your pieces have dried, use a brad nailer or hammer and finishing nails to attach to your table. Tip: nail varying places on your pieces to create an authentic look…plus it's easier not to have to have perfect hammering lines!
7. Sand your tabletop. Either using a block or electric hand sander, smooth out your table top to designed feel.
8. Paint or stain your table. This is where you can really use your creativity! I started out painting without painter's tape, but luckily wised up to how incredibly EASY it was to use it! Seriously…use the tape! Allow paint to dry.
9. Sand to distress. This type of table just calls for a little aging/distressing.
10. Finish with a clear coat polyurethane. I used a spray because I had extra from a previous project. You can also use the brush on as well. Allow to dry, then add a second coat if you'd like. You're done!
But then…I changed my mind!
Oops! Ya Gotta Love Happy Accidents!
Yes…I changed my mind FOUR times before I was happy.
In the words of Bobby Brown…It's my prerogative!
(Ugh…I can't believe I just referenced BB! Now, don't be cruel!)
Oops #1:
The first oops was this one I even styled…kinda like dressing up a pig:
Oops #2:
At first, I was gonna go rouge and sand it back down to the studs, but the reasonable (and instinctual) side of me stepped in to stop at just sanding down most of the color. Here's what that looked like:
Even though this was muuuuch better than the bright, disco version #1, it was waaaaay to shabby chic. NOT me and definitely not style-forward. I had to do something, but what?
STAIN! Well, actually, I sanded off almost all the raspberry paint and even more of the other lighter pinks first, then stained it with two different stain colors.
Thanks to the folks at Home Depot, I was able to sample 6 different shades…saved me loads of time and money! DIY TIP: if you're in need of a certain stain color…just ask to try them!
Oops #3:
This third and last oops was close, but it still didn't speak to me. It was now more like farm-house chic, but I felt like I was selling this idea to myself, ya know? I even lost sleep over it! Sheesh.
Then there was #4…
And then…Da-da-da-daaaaaaaaaaaaa! It came to me!
I looked back at my video shots and noticed, way back when the table was just a wee-little babay…with only a bare wood top and two light-pink, SOLID colors…I thought it was beautiful.
Well, I decided I'd go back to that in a way and ADD paint back! Who knew!?! And as fate would have it, all those OOPSIES actually created a sort of patinated, layered effect that made the final result so much more rich and interesting than if I had done this in the first place.
And we call this what?
A HAPPY ACCIDENT! Whoopee!
Here now, is what I can say I finally am…
FINISHED!
Now, watch the video tutorial!
[mv_video key="x2v9x25pueqf7cnhao55″ sticky volume="70″ aspectRatio="16:9″ title="IKEA Table Wow-Upcycled With Wood Batten Pieces" thumbnail="https://mediavine-res.cloudinary.com/video/upload/x2v9x25pueqf7cnhao55.jpg"]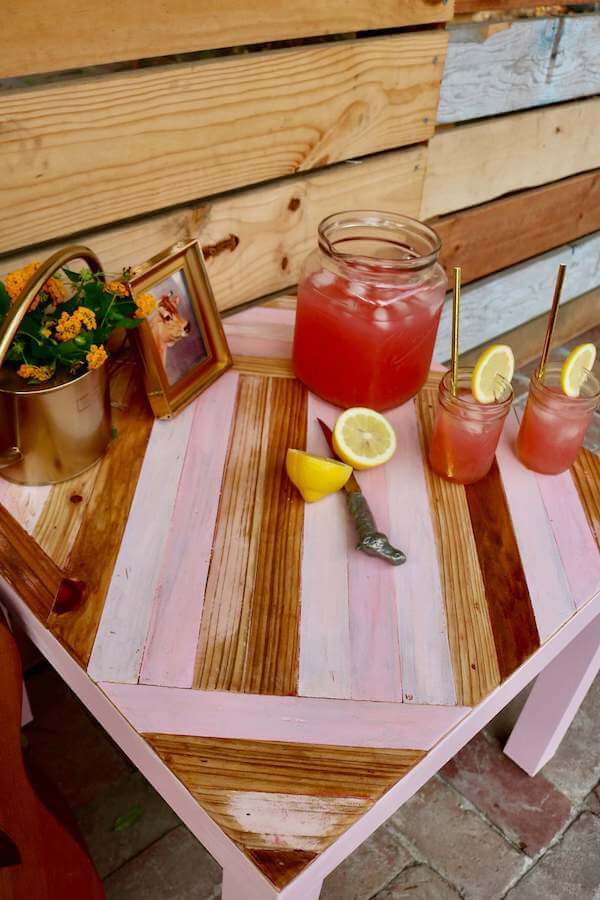 All photography and video by Skaie Knox/HomeJelly
This post was sponsored by
I've teamed up with HomeRight and am proud to be one of their paid brand ambassadors. I also received a HomeRight product sample to use in this post and have included affiliate links to the tools and supplies I used in this project. My personal opinions are completely my own based on my experience. I wouldn't have it any other way!