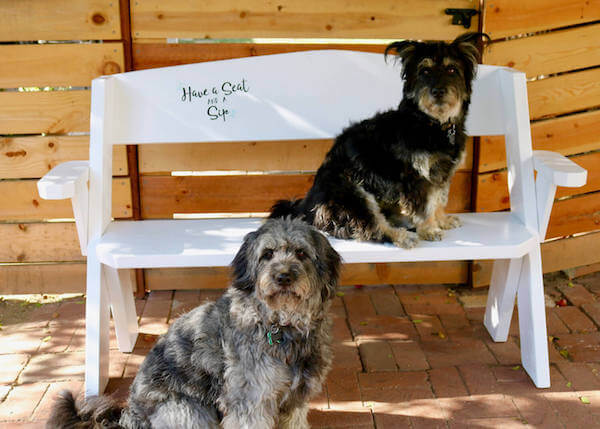 Ironically, it wasn't until we moved to a neighborhood where there are no sidewalks, that we actually started running into neighbors. In this relatively small town, what we call, "The Trees" of Manhattan Beach, California, you'll often find locals walking, jogging and "dogging" at all times of the day.
With shady streets that pour seamlessly into white picket fenced grassy yards, it's more like you're living in the country, not smack dab in the middle of Los Angeles.
What's more, people actually talk to each other and know your name! Right now, I can name about 80% of the folks on my street…80! That's why, I thought I'd gift them their very own "Neighbor's Nook".
Shhh…don't tell them! They don't know yet!
What's a neighbor's nook you say? Well, it's a little space in your front yard for someone passing by to stop and rest, water their pup, and/or sit 'n chat a while. I was inspired to create one after reading about the "Turquoise Table" movement" – where Austin residents place turquoise picnic tables in their front yards to signal to others they should drop by and visit.
How wonderful is that? And, they had me at turquoise, too!
It seriously doesn't take much to create one in your front yard! There are just a few key items to include and style for a "come-on-over-and-hang-out" nook!
1. Prepare a space in your yard.
It doesn't take but just a little space to create a nook. Usually, though, it should be close to the sidewalk or street, in order to make it inviting and not invasive.
Luckily, we had a corner of our yard that was doing nothing except providing our next door cats their very own litter box. So, instead, I installed decomposed granite (DG) as a super inexpensive and fast solution. It not only took care of the litter box, it provided a level space for #2.
Note: if you don't have a grassy patch, you can add stones, pebbles, pavers or DG.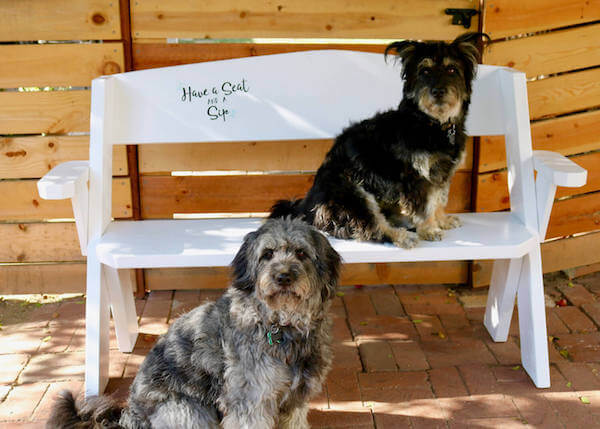 2. Provide some seating.
When neighbors have a place to take a quick load off their feet, they'll be more than happy to stop for a moment or two. I DIY'd a bench just for them and painted it with HomeRight's fabulous Finish Max Sprayer.
It not only took moments to paint, it left my new neighbor's bench with a smooth-like-a-professional-did-it look! I also chalk 'n hand-painted a little message for them…
…you know, just in case they need a more formal invitation.
I can't wait to try the Finish Max Extra. It's the sprayer that does it all (and with less thinning to boot)!
Other seating options include: folding or plastic chairs, adirondack chairs (I love these colorful plastic versions and they're super reasonable), wooden bench, tree stumps, or even a stand-alone porch swing.
3. Offer their dogs a drink.
Leave a dish out in your neighbor's nook – they'll most likely get the message, but you can also add a sign like, "Take a sip".
Here in the beach community, you'll often find dog dishes at the entryway of storefronts and Strand houses (i.e. beachfront homes along a 22 mile long walk/bicycle path). I can't tell you how often we've met new people and discovered new shops because of this considerate K9 offering.
I thought I'd get "The Trees" roll'n with this generous gesture, so I installed a "faux faucet" with a dog dish. Though the faucet doesn't actually work, I'll make sure to work adding fresh water into my morning routine.
4. Plant some colorful flowers.
Brighten their nook with something colorful and fresh. I wanted to use up some scrap wood, so I made this fun flower box with a message. You can also buy one at any box store and paint any message you wish!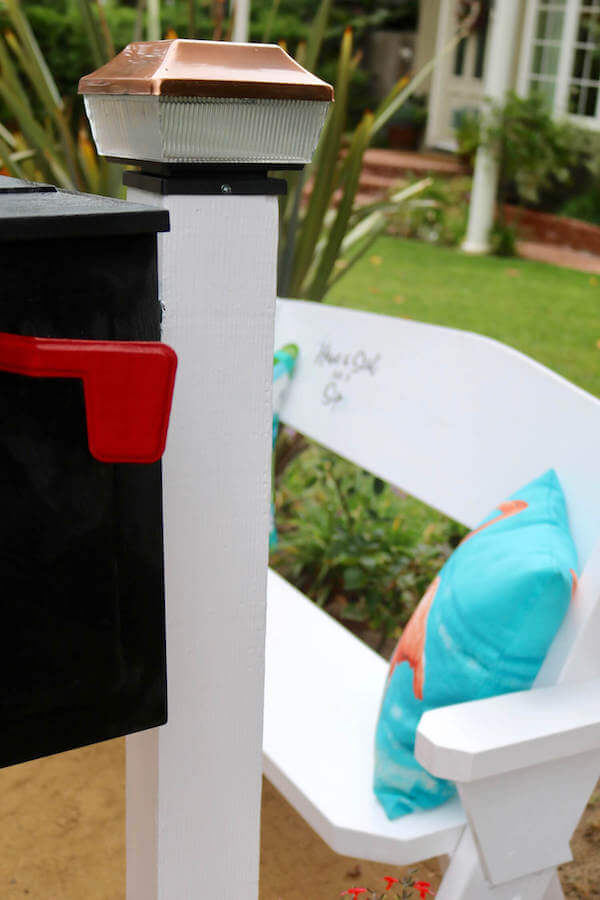 5. Shed a little light.
Solar lights can offer night-time walkers a way to make their way to your neighbor's nook.
6. OPTIONAL: Add some comfy pillows.
Most likely, this styling tip will be for weekends when you're probably home and hanging out in your front yard. A couple colorful throw pillows will up the hospitality charm for sure!
Give it a try, and spread some good in your hood! You might be surprised by what you'll receive in return.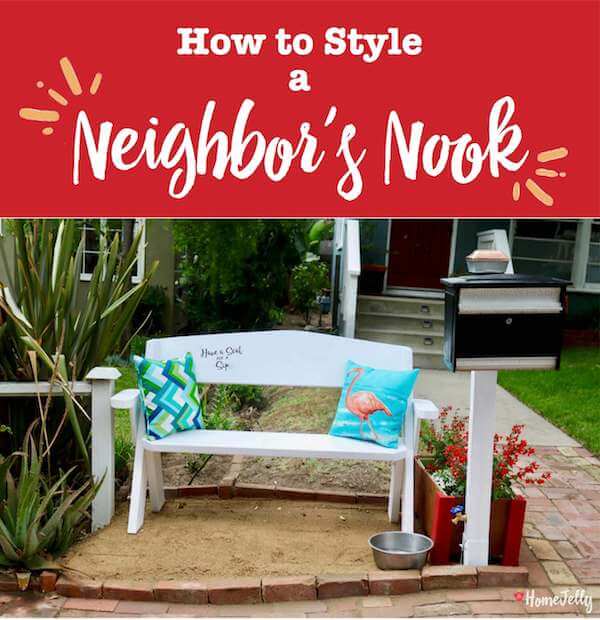 All photography by Skaie Knox, HomeJelly
This post was sponsored by
I've teamed up with HomeRight and am proud to be one of their paid brand ambassadors. I also received a HomeRight product sample to use in this post – my personal opinions

are completely my own based on my experience. I wouldn't have it any other way!