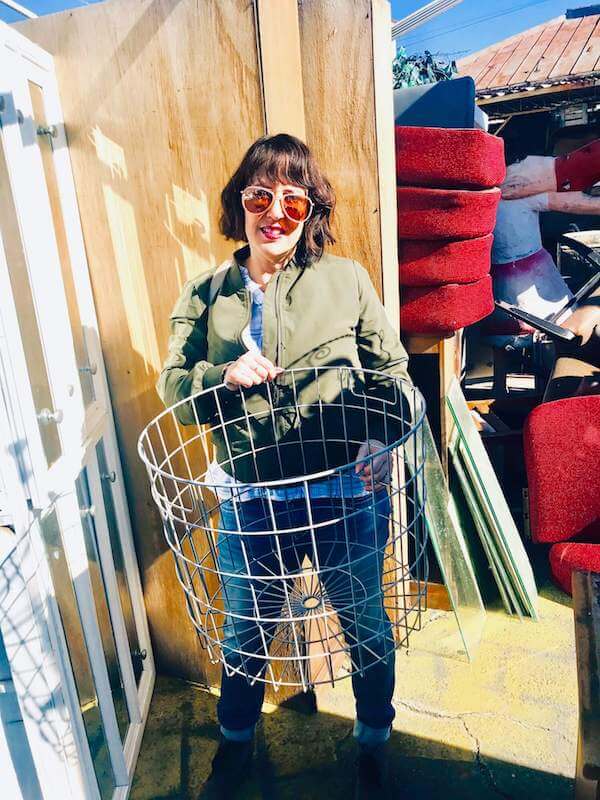 If you've ever stepped foot inside a salvage shop, the amount of stuff can be a bit overwhelming. The trick I've found over the years is to go in with a plan. Well, at the very least, bring along a wishlist of items you're looking to add to your home's decor.
Take today's project: a repurposed metal basket swag light with veneer weaving. Our home's living room has suffered from both lack of light and lack of ceiling style for years, so on a recent trip to LA's iconic and quirky Metropolis shop, I knew the plan going in and the results are fantastic!
In fact, what I hadn't predicted was that this light is perfect to hang inside AND out! Oh, and because it's a swag style, you can hang it in any room. How fabulously flexible can one decorative piece get?
So, now, with just a few select supplies, NO power tools, and these simple how-to instructions, you, too will be able to make an elegant, reimagined light fixture that'll totally overwhelm your guests with decor envy!
Supplies:
• round metal basket (ours is 18" diameter)
• maple veneer – 12 square feet
• utility knife
• metal straight edge
• wood stain
• P120 sandpaper
• hole punch
• 15.5′ light bulb fabric cord
• LED Big Bulb – this bulb can last up to 20 or more years!
Instructions:
Click here for FULL how-to instructions, along with additional tips on our article on today's sponsor, Universal Furniture's Explore Home blog.
Meanwhile…
Watch our Repurposed Metal Basket Swag Light Tutorial:
[mv_video key="kujt2hmeciyalpg9vs5b" sticky volume="70″ aspectRatio title="Repurpose a Metal Basket into a Swag Light with Veneer Weaving" thumbnail="https://mediavine-res.cloudinary.com/video/upload/kujt2hmeciyalpg9vs5b.jpg"]
Pin It!
If you'd like to make this project (now or later), OR, you just love it just because, pin it on your Pinterest board! Thanks much!

This post is sponsored by

We were paid to create this video and post by today's sponsor. We have also included affiliate links to the tools and supplies used in this project. The compensation we receive from affiliate sales helps fund our site to provide free how-to projects for y'all. Our personal opinions

are completely our own based on our experiences…we wouldn't have it any other way!