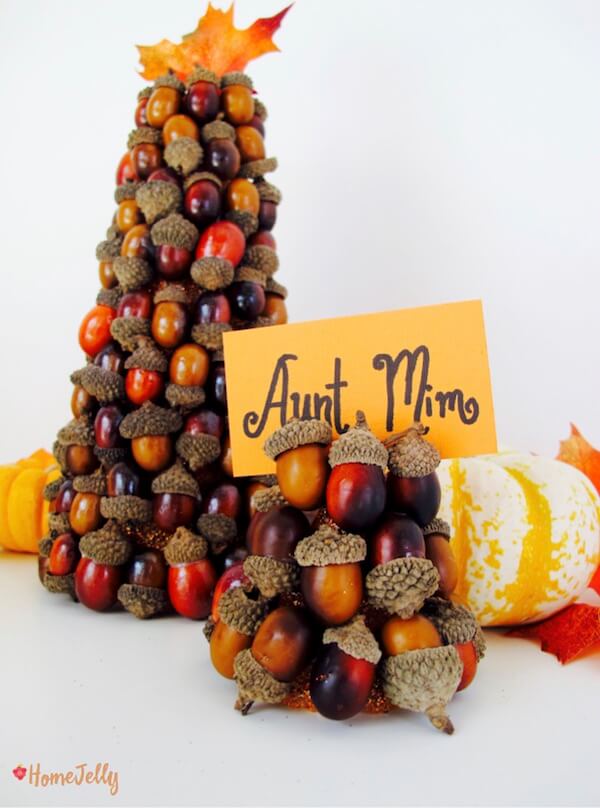 Ah, autumn. How I've missed you, my friend!
This year's first indication that fall was coming, was a lone maple leaf that lay resting on the grass, seemingly reflecting on the long tumble it had just taken from its, until that moment, stubborn branch. I had heard a similar story from my cousins, Jenny and Jodi, who live in Vermont, but their fall friend, the acorn, had lots of other friends whom they shipped to me. Yay! and thanks cuzes!
So, in honor of my lone leaf and these wonderfully charismatic nuts, I thought I' share an easy how-to crafting project that feature these fallen oak tree kernels and dresses them up in glitter (see here our Acorn Autumn Tree Centerpiece how-to post and video, too!). They could then be shown off as an ode-to-the-season place card holder for all your autumn holiday festivities.
Not so nutty of an idea now, is it?
Supplies:
• acorns
• foam cone
• utility knife or sharp kitchen knife
• spray paint (autumn color)
• Mod Podge
• paint brush
• autumn colored glitter
• hot glue gun
• clear glitter spray
• autumn leaf (real or faux)
Instructions:
1. Using your knife, gently cut a small slit at the top of the cone.
2. Spray paint entire foam cone. Allow to dry.
3. Brush glue all over cone, then sprinkle glitter. Allow to dry.
4. Starting at the bottom, hot glue acorns to tree.
5. Add place card, then set the table!
No go nuts and make one for your holiday table!
All photography by Skaie Knox, HomeJelly